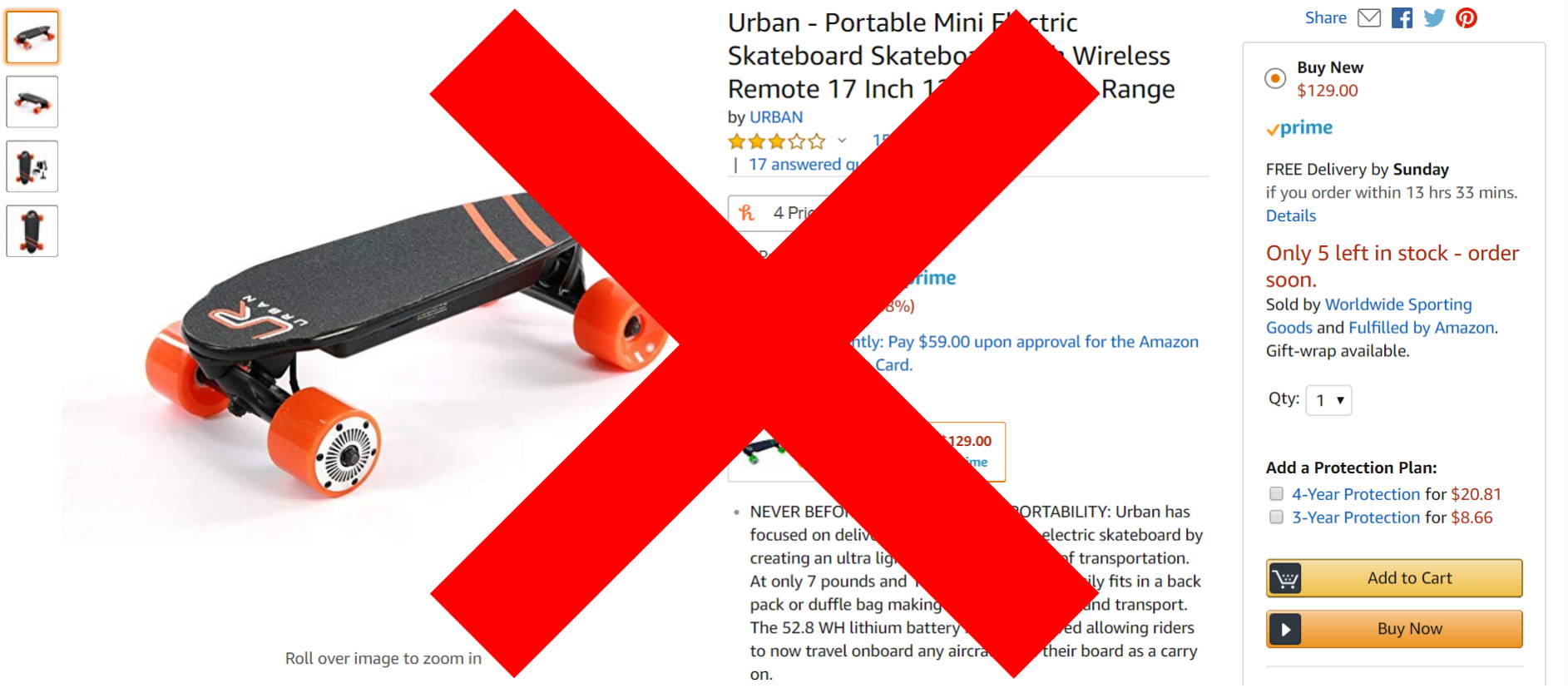 And the worst electric skateboard award goes to…
Yea here it is. The review of the worst electric skateboard on the market. The bottom of the pile, the shit-end of the stick, the dog poo on the bottom of your shoes. Is it really that bad? I'll tell you myself, with this in-depth review. No more waiting. The award for the worst board on the market without question, goes to…
The Urban Portable Mini Electric Skateboard
I know what you're thinking, you've probably never heard of this electric skateboard before? Good. You don't want to, this board belongs in the trash, sorry for being blunt and mean, but it's the truth.
The Backstory Behind It All
I purchased the Urban mini electric skateboard on Amazon.
At the time of my purchase I was looking for a penny sized electric skateboard that would help me commute from the train station to school, and back. I thought it would be great if it would fit in my backpack, so I could just stuff the board in there right before class. Upon looking online, I found the Urban mini electric skateboard on the biggest site and most well known site of them all, Amazon.
I glanced over the photos and read the descriptive bullet points regarding this mini electric skateboard. After looking at the photos I could tell it was tiny, but what got me going was the description.
Never before seen design and portability!

A top speed of 12 mph and a range of almost 10 miles! ----> "WOW"

Quick connect true wireless remote!

Charging time of only 1 hour!

17 inches long and only weighs 7 pounds! -------> "Just what I need!"
After reading the bullet points I thought "perfect!" A board that fits my exact needs and without dropping $750 on Boosted or Skatebolt electric skateboards. I can ride it to school, it'll save me time, and I'll just stuff it in my bag after riding. It has a great top speed, 12 mph is almost the speed of someone riding a bike on a commute to work, which is just about 14 mph. I'll bypass all the pedestrians and have a grand old time doing it, and I can glide back to the train station in no time just in case I need to catch an arriving train.
Even better was the fact that the board was sold on Amazon and it was available not just for Prime 2-Day Shipping, but FREE 1-Day Shipping! I was immaculate to think I could have this board in my hands tomorrow and begin riding it to school next week! So i bought it...
Performance Issues
The real reason why this specific board was such a letdown. It barely had any power! I first took it out on my street which is very well paved and doesn't have any bumps or incline. Upon mounting the board I noticed how difficult it was to stand on it. I could barely hold my balance. I'm a pretty tall guy, around 6'1, and I get that I might not have the best center of gravity, but this board could barely keep me up.
But after a few attempts with the board in the fastest speed mode setting I was able to mount the board and actually take off. The take off was extremely slow, and took a while before I was even able to get to a decent speed. The ride was short lived because I lost my balance soon after. Try again, and I pick up speed again, and this is where I attempt to turn, to no avail. The turning radius is TERRIBLE.
After attempting a few more times I came to the conclusion that you can only ride the board in a straight line and on a flat surface! I did however want to know how fast I was riding when I was at full speed. I pulled out a speedometer app on my iPhone, and clocked myself going 11 mph full speed. Not horrible I thought, but 11 mph is pointless if you can only ride in a straight line and a flat surface. It doesn't matter how great the range is, the board won't leave your street.
Braking Is Scary!
The brakes on the thing were terrifying. Most electric skateboards allow you to slow down to a smooth finish, but each time I tried smoothing into a stop, the board would just hit the kill switch on itself and come to a complete halt within half a second. My 200 pound ass nearly went flying across into the neighbors yard as I was violently launched like a projectile from a cannon. I hit the pavement a couple times, and even though 11 mph isn't that fast, it still leaves a lump on your side. Brakes are a failure.
After braking like a lunatic, I decided to test the two other speed modes since I was riding the whole time on top speed. On both the slow and medium speed settings, the board wouldn't budge. Man I was shocked.
I'm a heavier guy, almost 200 pounds, but that's ridiculous. The board says it had a weight limit of around 250 pounds, and here I was attempting to ride something that didn't want to move. I guess Urban thinks slow the slow speed mode is 0 mph and medium is .5 mph?
Before bringing in the disappointing Urban mini electric skateboard into my house, I tried riding it up my driveway. Keep in mind, my driveway has the slightest incline. I'm talking maybe 5 to 10 degrees at the most. With me standing on it, the board wouldn't even budge an inch, it gave up on moving, and I gave up on riding it.
The Remote
The remote, like the board is a piece of garbage. It feels like it's made of the cheapest Chinese plastic and if dropped, I'm 100% sure it would have cracked or shattered. To switch the speed modes was a pain, there was a little switch on the side (should be a button instead) that you'd flick from slow to medium to fast. The switch was very small, hard to change, and very loose - almost like it was going to fly off had a pushed to hard. The throttle was surprisingly smooth and despite the snail acceleration time, I liked how it felt.
Price
At the time the Urban mini was also $250, which now that I think about it, is super expensive for a board that size. Currently it's sitting on amazon at $129! Urban must have realized how bad the board they were selling was and chopped the price in half. But if you ask me, it's not even worth a penny, get it? Cause it's a penny board… nevermind… I'll stop.
The Final Verdict
I don't need to tell you anymore how terrible this board is. Save yourself the money and the time, and invest your money into a real board, like the Ownboard Mini KT, or the MaxFind Max 2. These boards are on the cheaper side of the spectrum with all the capabilities and performance features that you'd find a top of the line expensive electric skateboard.
After my disappointed run with the Urban mini electric skateboard, I thought I wasted $250. Then it hit me that I could return this board to Amazon for a complete refund. Then I wouldn't lose any of my money and I could invest the money into an Ownboard.
I simply packaged the board back up in its original box with all it's belongings, and then brought it to UPS where I said my final good riddance and called it a day. Amazon refunded all the money, but made me pay for the return shipping which was about $8. The entire experience with the worst electric skateboard ever, cost me a fall and yes about $8.
I left a verified review on the Urban mini's Amazon listing in hopes to prevent people from purchasing it and going through what I did. Surprisingly the board's reviews weren't all negative. The overall review rating was 3 out of 5 stars. And 55% of the reviews are actually positive. I did some more research because I had my suspicions and found that half of those 5 star reviews are unverified, which leads me to believe that they could possibly be fake. A tactic used by many online websites in order to persuade customers and increase sales.
On the other hand all the negative of 1 star reviews are verified purchases. Regardless if the reviews are fake or not, the board still takes the cake for the worst electric skateboard award.
I hope you learned from this in depth review to do a little more research with any product you purchase online, not just electric skateboards. And remember, cheaper isn't always better, if you want to invest into something of quality, you're going to need to spend the money up front. Always Cheers! And happy gliding!