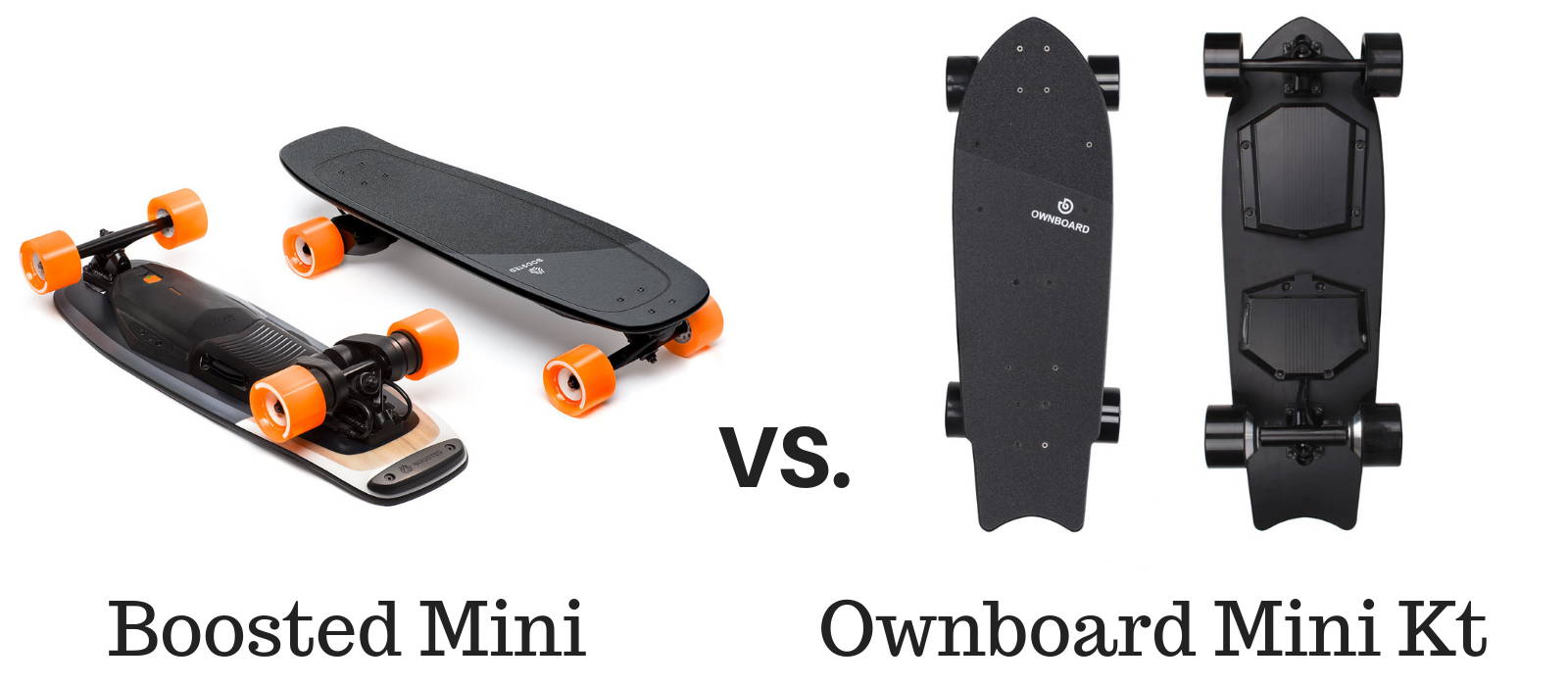 Why do I even compare these two electric skateboards? Most people don't even know the Ownboard brand! And everyone who rides an electric skateboard owns a Boosted board or wants one for Christmas.
This is a review many people wouldn't write, but here I am, and here we go. In the red corner, weighing in at 17 pounds and 30 inches long and manufactured out of China… the underdog, the Ownboard Mini Kt.
And in the blue corner, weighing in at 17 pounds and 29.5 inches long… known as the Tesla of electric skateboards, the Boosted Mini S.
Lets fight!
Price
In round 1, we're going to be comparing a big purchasing factor for any electric skateboard out there, price.
The Ownboard Mini Kt comes in at $417 for their base model. The base model comes with a Samsung 4.0 AH battery, which can be upgraded to a Samsung 6.0 AH battery for at $457. There's an even higher performance battery called the Sanyo which pushes the price of the board to $597.
What these batteries do in terms of range and performance will be talked about later.
The Boosted Mini S has a base price of $749 but can be upgraded to the Boosted Mini X at $999 (same board, better battery.)
Without question the Ownboard Mini Kt offers a lower price, not to mention they always have discount offerings on their website. Down below are the most recent discount codes they have placed on their product pages.
Use Code: XMASNY10, 10% Off for All Orders,
Use Code: XMASNY12, 12% Off for Order Over USD499
The 10% discount code drops the price of the base model Ownboard Mini Kt by $41. That's a final price of $375! No contest here, the price round goes to Ownboard.
Quality
Boosted is well known as the Tesla of electric skateboards. And rightfully so. The quality, time, and craftsmanship put into each and every board is out of this world. They deck is precise, everything is screwed in perfectly, and the build of the board is fantastic. If you want quality always look to Boosted.
Next we have the Mini Kt. The quality might be just as incredible. Forget worrying about cheap chinese quality, this thing was manufactured very well and if it not were for the logo change, you might think this is a Boosted board.
I'll give this round to Boosted, because of their reputation in quality, I can't turn them down. That being said this one should be a tie.
Speed
The Boosted Mini S has a top speed of 18 mph. The Boosted Mini X has a top speed 20 mph with it's stronger battery.
The Ownboard Mini Kt has a top speed of 23 mph for all of it's models.
Keep in mind, the manufacturers test out the speeds of these boards on a flat surface and with a rider who weighs around 75kg. For someone who weighs more, the top speed might be much less. And if you don't ride on a flat surface, the top speed of the board won't be the same for sure.
A definite edge for Ownboard in this case. Even their base battery model has a faster top speed over the Boosted Mini X which retails for over double the price at $999.
Range
Depending on which battery you choose with your Ownboard Mini KT, you'll get a better range.
SAMSUNG 4.0 AH: 9.5-12 Mile Range
SAMSUNG 6.0 AH: 12.5-14 Mile Range
SANYO: 16-19 Mile Range
The base battery model offers an astounding 9.5 to 12 mile range. That's amazing, but if you were to upgrade those numbers shoot up even higher. The Sanyo battery offers a top range of 19 miles! That's unheard of!
With the Boosted Mini you also have a big difference in range between the Mini S and the Mini X.
Boosted Mini S: 7 Mile Range
Boosted Mini X: 14 Mile Range
The high performing battery on Mini X doubles the range over the Mini S. Pretty incredible!
This round goes to Ownboard. Better range on their boards and for a much much cheaper price.
Handles
There's no other way to test the handling of the boards other than riding them. This is something you should try and test if given the chance. If you have a friend who owns one of these electric skateboards, ask them to take it for a spin.
After riding both I felt as though the Boosted Mini S offered the slightest edge in handles, although you can't really tell the difference. Boosted has always had incredible acceleration and handling quality. This is specifically true for their Boosted Plus models, which are probably the easiest to ride and best handling electric skateboards on the market. Both boards do offer regenerative braking which is a huge plus. But I once again gave this round to Boosted because their reputation and brand association for quality.
This round to Boosted.
Deck and specifications
Although this isn't really a round to judge on too much, it's still something to consider when purchasing an electric skateboard.
The Ownboard Mini KT deck is 8 layers of maple wood and has a total length of 30 inches. It's 9.5 inches wide and offers a kicktail. It's a stiff deck with zero flexiblity. I had trouble finding any more info that what was given on Ownboards website.
The Boosted Mini S deck is 29.5 inches long by 11 inches wide and is made of triaxial fiberglass. A deep dish composite deck with polymer sidewalls that make the board durable and prevent damages from impact.
Both boards evenly weigh as 17 pounds.
Due to Boosted offering protective material in their deck, I'm giving this round to the Mini S.
Charging Time
This might not impact many people as well, since electric skateboards don't need to be charged every single day, unless you're someone who commutes to work with it a lot. But charging time is still has some importance.
I have personally tried charging both these boards and they are accurate with their website information.
On an empty battery, the Boosted Mini S has a charge time of about an hour and fifteen minutes. The Mini X is slightly more at an hour and forty five minutes.
On the other side, the Ownboard Mini Kt has a full charge in about two and a half hours.
This round clearly goes to Boosted.
Ride Modes
Both the Mini Kt and Boosted have three ride modes and offer no substantial difference. This round is a tie.
Hill Climb Rate
Another performance feature that is extremely important, espcially if you live in an area that offers hills or a mountainous region.
The Ownboard Mini Kt has a hill climb rate up 30% I have personally tested this and I have gone on some extremely steep hills that are hard to walk up, and this thing just glides up it like a beast!
The Boosted Mini S/X only has a 20% hill climbing rate, but it still works very well.
Clear round to Ownboard.
Shipping - Speed, what service
The Ownboard Mini Kt was shipped from California and took 3 days to ship out and over 6 days to arrive. Not horrible but it could be better. The shipping updates from FedEx changed the delivery date 2 times over the whole process of me waiting for the board, but this isn't Ownboards fault at all.
The Boosted Mini X took the same 6 days to arrive and 3 days to ship out.
Both boards offered the same ground shipping rates which took the same amount of time.
This is another tie.
Support - Warranty Website Service Replacement
Before I go into depth, this is a clear round for Boosted. Boosted offers unparalleled communication and service if you ever have a problem. They have a 6 month warranty and a 30 day return guarantee on all their boards, meaning if you don't like your Boosted board within 30 days of riding it, simply just return it for a full refund. That's service!
Not too mention Boosted also offers financing for their boards if you can't make the full upfront payment.
Their website offers a ton of information regarding how to fix your board and deal with issues like speed wobbles, clicking sounds, and more. And if your Boosted board still has problems you can send it in for service and repair.
With Ownboard, you are only offered a 3 month manufacturers warranty, which is pretty short. There website was written in broken English so I'm not entirely sure what their replacement/refund process is but I did see this. Ownboard claimed they won't fix your board for you if it's covered under warranty but rather "only ship out spare parts since the shipping cost is too high for them to send it back if it were to be repaired." I was confused by this part so I just dropped the process of looking for more info. You can check out more of their service and warranty information on their site here.
Reviews
Both electric skateboards have amazing reviews, but I found that most people who reviewed the Ownboard Mini Kt loved
The Decision?
Although this may look close based on the round, it's actually quite an easy pick.
The Ownboard Mini Kt takes this one easy.
Why?
Although Ownboard might be a Chinese company with only 3 month warranty, at the end of the day the board they are offering is out of this world, and it's only for a price of $417.
But don't mistake price for a lack of quality. All performance based tests from speed, range, hill climbing, etc, favor the Ownboard Mini KT. In fact this electric skateboard is so good that you can put the Boosted logo on it and people would believe it. It's not even a competition. You may be wondering how they're able to offer so much at such a low price? According to Ownboards website "We import our product directly from our manufacture to ensure that we can offer our customers the lowest price on the market."

I highly recommend checking the Ownboard Mini Kt or any other Ownboards board for the sake of it. I believe it's only a matter of time before people realize the Ownboard is making the best quality and performing electric skateboards, all at the lowest price. If you want more information on the Mini Kt, just check out my in depth review it right here. Cheers and happy gliding!