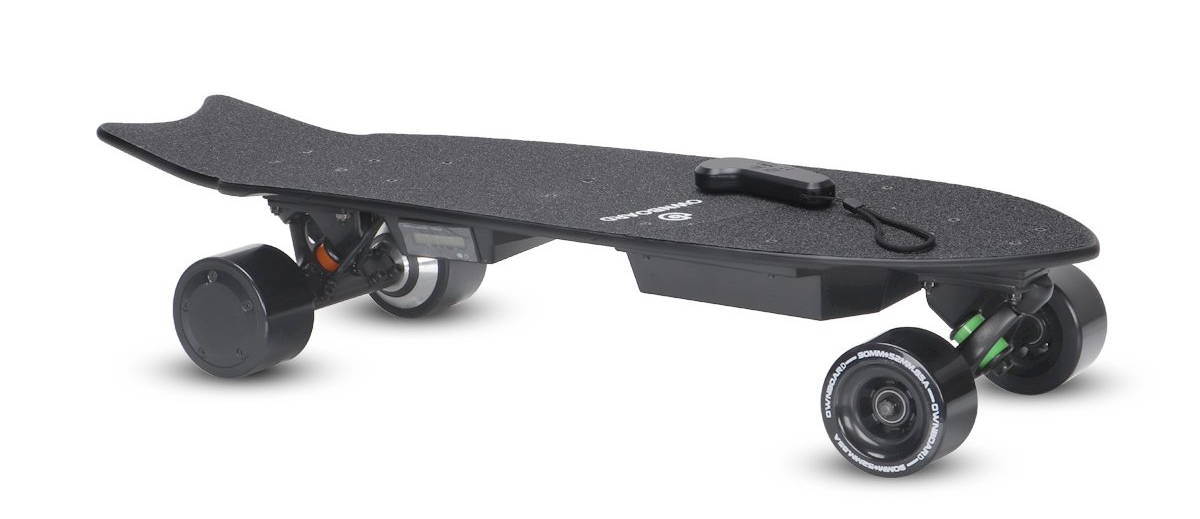 What is the most underrated electric skateboard on the market?
I'm going to say it. The Ownboard Mini KT is not just the most underrated electric skateboard, but actually the best one for your money. This thing is a straight up beast!
First off who is Ownboard?
Like many people you probably have never heard of Ownboard. Ownboard is a Chinese electric skateboard manufacturer under the brand JOINTECH who produces premium quality electric skateboards for half the price of some of the top brands. Compared to the Boosted Mini X, a 29 inch board retailing for $1000, Ownboard's 29 inch Mini KT retails at $417!
Don't mistake price for a lack of quality. All performance based tests from speed, range, hill climbing, etc, favor the Ownboard Mini KT. So how is there price so low? According to Ownboards website "We import our product directly from our manufacture to ensure that we can offer our customers the lowest price on the market."
Similar to Ownboard are other Chinese companies you may have heard of such as Meepo, Wowgo, and MaxFind. These companies have been making a name for themselves in the market. A lot of e-skate fans have found you can buy electric skateboards at a low price and not sacrifice a tremendous amount of performance.
In fact, with these brands the performance is often better! I highly recommend you check out all these companies before making a purchase on an electric skateboard. We do sell MaxFind Electric Skateboards and offer information on our website.
Speed… this board could run through a brick wall.
So what are the capabilities of the Ownboard Mini KT. Let's start off with speed. the board offers 3 speed modes: beginner, medium, and fast. Beginner speed clocks in at around 12 miles per hour. Medium speed mode comes in around 18 mph, and top speed is around 23 miles per hour!
Keep in mind these speeds may vary from person to person depending on your weight and size. I'm almost 200 pounds and the board still picks up incredible speed even on hills. It's acceleration is fantastic, it can take off in the blink of an eye, while still maintaining a great amount of stability on the pavement.
Battery and Range
Ownboards offers three different battery packages you can purchase with your electric skateboard.
Samsung 4.0AH

- Range: 9.5 to 12 miles -

normal retail price of $417

Samsung 6.0AH

- Range: 12 to 14 - miles -

bumps board price up to $457

Sanyo Tesla

- Range: 16 to 19 -

bumps board price up to $597
When I purchased my Ownboard Mini KT I went with the Samsung 6.0AH battery package at $457. It's only $40 extra and the added range you will recieve will only benefit you. Also for your benefit Ownboard is always offering coupons and discount codes when purchasing from their website. I'm pretty sure I used the discount code OFF40 and it gives you $40 off their purchase. I just checked and I found they have two discount codes that i'll place below. Feel free to try these at the checkout for some extra savings!
Use Code: XMASNY10, 10% Off for All Orders,
Use Code: XMASNY12, 12% Off for Order Over USD499
On the opposite side of the boards on/off button is a digital screen that when turned on will show you the amount of charge left on your board. It also shows the voltage, and it's very useful to know when you need a recharge, and a deciding factor if you can travel a certain distance.
Remember, you can always ride the Ownboard like a normal skateboard if you ever run out of battery. However I doubt this will ever happen since the range is exceptional. I have yet to even run 40% of my battery in one day.
Handling
From what I've noticed the handling is pretty great for an electric skateboard. It's not as good as an electric longboard but this thing has great turning radius and maneuverability. I use it to commute from the train station to school In the busy city of Stamford Connecticut which has a ton of pedestrians and cars. I have absolutely no problem avoiding obstacles and it makes the commute a ton of fun and saves me a lot of time.
I will say that sometimes there are some speed wobbles when you get up on the high speed but I have noticed this with almost every electric skateboard. This can be simply fixed by tightening the trunks a little bit or placing your body weight on the front of the board rather than the back.
Deck
The Ownboard's deck is an 8 layer maple wood, 30 inches long by 9.45 inches wide. It's very strong and feels durable, but it doesn't offer the flexibility of an electric longboard. It can carry someone as heavy as 265 pounds, above the standard for most other boards. It also offers a kicktail which makes it easier to pick up the board.
The board weighs 17 pounds, around average weight for electric skateboards its size. Weight has always been an issue with electric skateboards due to the battery, but I have no problem carrying the board around when I need to. I love the size, a big reason I picked the board. I usually end up storing it in my locker as school, an easy fit. If I had picked something longer like a 35 or 38 inch electric longboard, I would have more of an issue.
Wireless Bluetooth Remote
The remote is made of excellent quality. Feels solid in your hands, great grip, and won't break if you drop it. The remote also comes with a wrist strap so even if you do drop it, you won't break it or lose it. There is an on switch on the remote that when pushed will blink until the board is turned on as well. When both the remote and the board are turned on they synchronize via bluetooth and you're ready to ride.
The remote has a switch on the side that changes the direction between forward and reverse. In order to change speed on the board you simply press the gear button. It simply lets you know what speed you've changed to by the blinking lights.
The throttle control is a thing of beauty and lets you smoothly control the throttle without jerking the board around. Easily stay in control of the speed you like and smooth slow down to a halt without launching yourself off the board. The boards breaks are fantastic and they even allow for regenerative braking meaning your board will recharge as you brake.
Hill Climbing
The Ownboard Mini Kt accels in hill climbing. According to Ownboard it can climb up a 30 degree incline. I can attest because at the end of my street I have an extremely steep hill and the board breezes up it with zero difficulty. Sometimes the neighbors look at me funny since they have zero clue why I'm just magically gliding up this hill without pushing or pedaling. I still believe they don't know the skateboard I'm riding is electric.
Wheels and Motor
The wheels on the board are 90mm and the hub motor is a powerful 1000W. Wheels can easily be tightened or replaced, they are made of high elastic plastic.
What's in the box?
When you purchase your Ownboard Mini KT you'll receive…
1 x Ownboard Mini KT Electric Skateboard

1 x Bluetooth Wireless Remote with USB charging cable

1 x Pair of foam deck protectors for deck swapping

1 x Charger

1 x DC port charger adapter (US, AU, or EU plug up to your location)

1 x Multi-functional T-tool  

1 x Rear LED light for nightime riding

1 x User Manual  

1 x pair dash-proof rub
The board comes ready to ride when purchased. Mine was charged up at about 50% but I decided to fully charge it before riding it. The remote will probably need to be charged before as well, so just plug the usb cable into your laptop and then plug in the remote. The box also comes with a pair of foam deck protectors in case you ever want to lay it upside-down and swap the decks. I've never used it and I doubt you will too.
The multi-functional t-tool is for tightening your trunks and replacing the boards/wheels. I have used this a few times to adjust for speed wobbles but it's best to leave your bolts less tight to reduce tension and not damage your board. Over tightening also reduces your boards ability to turn.
Like stated above, speed wobbles can simply be fixed by placing your weight on the front of the board rather than the back. Also as you get better at riding your board your muscle fibers will strengthen and adjust to the unbalances of riding and prevent speed wobbles.
In the package was also an LED light that flashes for nighttime riding. I found it not useful since it doesn't fit on any part of the board. It looks like it was designed to be placed on a bicycle.
The user manual goes over all the maintenance, tips, tricks, and directions for how to start the board, ride, control it, etc. If you ever have an issue with your board, any board for that matter, I highly suggest checking the user manual before looking online or contacting the manufacturer.
Shipping time?
When purchasing the board, I received a notification via email right after my purchase. Ownboards website states they ship out within 24-36 hours. I was not given an update on how long my board would take to deliver but I contacted a representative from the company who stated the board takes 7 days to arrive.
Although there was a delay in the shipping process, I still received my board 6 days after it was shipped out. Not bad service for an overseas Chinese company. Everything came in perfect condition and I was ready to take on my new Ownboard on some wild adventures.
Reviews
Being completely honest, I have yet to find a bad review of the Ownboard Mini KT, or any Ownboard for that matter. On their website for each product listing, holds an array of reviews. Currently the Ownboard Mini Kt has 32 reviews almost all verified purchases, with 91% being 5 stars and the other 9% at 4 stars. Not bad eh?
I took a few reviews from their website…
"Absolute amazing board, I'm completely obsessed with it, have had nothing wrong with it great speed and feels very solid great product everyone go buy one!"
"We own two of these boards and absolutely love them. My husband and daughter love to skate together. This board is fun for both of them. It has enough power for more experienced skaters and also has a turtle mode for those not as experienced. My husband is almost 50 and this board is keeping him young. We have owned other electric skateboards and this one is the one we have kept!! The company is great, too. All I can say is "Yes, buy this board! We are so glad that we did!!"
I saw another great review but was quite puzzled because it wasn't verified, plus he talked about how awesome it was to update the boards firmware through the Ownboard app… but this is not that case since Ownboard does not have an app on the App store, nor do I believe you can update the software for their boards. I am stating this for your own knowledge and for you as the reader not to be misguided. If there is please comment below and I'd be very interested in hearing about it!
The price should be way higher… but isn't!
It's true, the Ownboard Mini KT is a home run when it comes to electric skateboards. It has absolutely everything you could want, for such a low price. It's absolute killer quality, rivaling those of top brands like Boosted, Evolve, and Inboard.
Incredible acceleration and a top speed of 23 mph - much higher than the other brands. A great range of 14 miles, and powerful hill climbing - easily gliding up a 30 degree incline, sometimes even more.
With exceptional handling and stability, a kicktail, sturdy remote, and more, there is absolutely nothing you can't love about the Ownboard Mini KT. I hope you enjoyed this review as much as I did making it for you! I highly suggest checking out the Ownboard website as well as their collection of boards, and look into purchasing one for yourself, whether it be an electric longboard or an electric skateboard. I promise you won't be disappointed. Cheers! And happy gliding!