What Is Movpak?
Movpak is a company founded in 2014 by Ivo Machado and Hugo Dourado, who created the first hybrid backpack and electric skateboard crossover.
According to adaptnetwork.com, the idea came to life when Hugo was out travelling in Europe and questioned "Why do people have to leave their vehicles/bikes before they get on the train? And how do they get from the next station to work? Something is missing in this process." Everyone has seen that one guy who brings his bicycle on the subway or train. He takes up so much room and it's so inconvenient to carry it around.
From that simple question and problem came hours of tireless work with engineers and between Machado and Hugo.
In the end, the result was a prototype backpack that converts into an electric skateboard.
In order to market the idea and get some revenue for production, the guys took to Kickstarter and Indiegogo. After receiving over $60,000 from Kickstarter and $263,000 from Indiegogo, the interest was generated and, production took off!
How It Works?
Movpak is simply just backpack with wheels. The wheels fold out with a skateboard platform. Just get on and you're ready to ride. The wheels can also be used to make it a rolly backpack, similar to a suitcase.
The dual-motor is located on the wheels, and the actual battery is inside the backpack. For charging, just hook up the charger right into the backpacks battery and you're good to go in about 1.5 hours.
I must say the backpack looks kind of goofy, especially when riding, but I've seen it does offer additional stability to riding. Perfect for commuters. An advantage is that you can swap out other Movpak designed backpacks for a different look and feel.
Price
Although I can't find it anywhere for sale, the price on their website was an astounding $2,000! Which leads me to believe this a big reason why the company might have failed. I'll get into this later in the article.
For people who backed the campaigns on Indiegogo and Kickstarter, the board was only $999 (including a helmet), a much better price which surely increased the hype.
Performance
So, how does Movpak compare to other electric skateboards on the market?
Starting with speed and range, Movpak comes in at a 20 mph top speed, and a 14 mile range. Not bad at all. I couldn't find any information on hill climbing abilities besides the fact one website stated "It can climb hills at 15 mph." Pretty useless information considering that no hill is the same, and there's no way it climbs extremely steep inclines at that speed.
That being said Movpak does have an amazing set of features that your electric skateboard doesn't have due to the fact it's also a backpack. ;)
Movpak has an app you can download on your smartphone which offers extra support and added capabilities

There's a built in microphone and speaker, where you can blast music while you ride and change songs simply through your Siri or Voice Activation.

There's a built in USB charger to always charge your phone as long as there's still battery. The app allows for GPS just in case your Movpak is ever lost or stolen.

Lights. Something not seen on many electric skateboards today. The headlights and backlight provide an added sense of security and comfort while riding at night.

The backpack has plenty of room to store clothes, books, pens, binders, clothes, etc. Basically anything a normal backpack fits, you can fit in the Movpak.

Wireless charging. If your phone supports wireless charging, throw it in the side pocket and yes you'll charge your phones battery.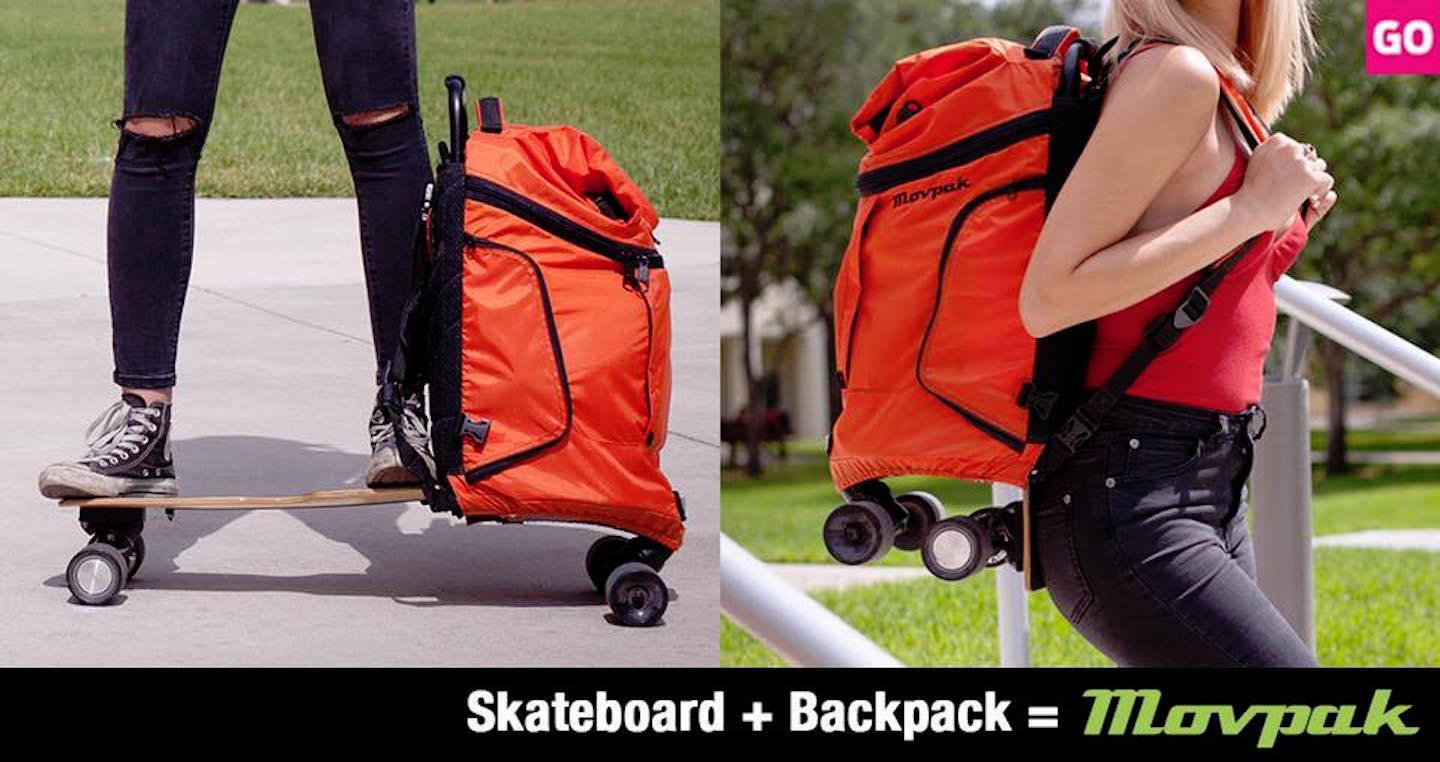 Where is Movpak Now?
But what happened to Movpak and where are they now? Keep in mind, they're projects were funded and launched in 2014, over 5 years ago, but I still had interest to see where they were now.
I searched and found their website, but Google alerted me that my computer had an unsafe connection, so I was diverted to a warning screen. It lead me to believe that the company didn't do business any more considering that their website was their main source of branding, selling, and promoting; and now it doesn't even work.
I checked back on Indiegogo and I saw some updates as recent as April 9, 2018; where Movpak talks about famous Youtuber Casey Neistat taking the Movpak for a ride and featured it in one of his vlog episodes.
I checked Google and decided to see the most recent updates on the company in the past year, but of the results I saw, no major news. I couldn't find any more leads. Which lead me to the sad conclusion that Movpak was just one of those "what could've been" product ideas that just rode the hype train for a few months or years.
Why did it fail?
First and foremost, the price. $2,000 is a lot of money for an electric skateboard. Evolve sells their boards at that price range but they offer unparalleled quality and performance.
Meanwhile, Movpak retailed for the same price, is this lunky, junky, looking backpack with a mediocre looking skateboard extension. The bag itself really doesn't look good, no matter which of their designs you swap it out for. People also might have been deceived by the $999 special and thought that was the actual price you would pay on the market.
Next, the few times I saw people riding the board, it seemed awkward. I get the backpack added extra stability when riding, but Casey Neistat tripped right over it when using it, and it actually started riding away from him on it's own as one point.
I also can see how people complained how much room they have to put their feet on. The deck is extremely small, considering the backpack takes up a ton of space. If you have large feet, or like to take a wider stance when riding skateboards, this board is (was) not for you.
It's also possible that their Movpak had a bad follow up after there project launched. It's important to retain a good connection with backers and people interested with your campaigns. We've seen to many times, where startups on Kickstarter and Indiegogo find the funding their looking for, only to blow it and fail once their product actually reaches the market. It's also possible this product just wasn't meant to be.
We live in an ever changing society with new technology and innovation. Things come and go pretty fast nowadays. Just look at Apple, if they don't update their iPhone or iPads every year, they'd be out of the race.
I hope to see some more unique electric skateboards in the future. Similar to Movpak was Unlimited Eon, a plug and play powertrain that turns any regular skateboard into an electric. What would you like to see in the future? Cheers and happy gliding!