Does size matter?
A question as old as time.
Everyone always wants to go bigger… faster… stronger…
But does that apply to electric skateboards?
After all, there are some pretty insane performing e-boards out on the market today.
Just take a look at the Evolve Carbon GT, Enertion Raptor 2, Boosted Stealth, or Meepo V3.
Each board is super speedy… and super long.
Don't get me wrong, high performance is a must, but almost all the electric skateboards we see carving up the industry today are these big, bulky, and heavy style longboards.
Some of these boards weigh up to 30 pounds.
If you're not riding it, that means you're carrying it. And if you don't have a custom backpack to carry that bulky board, you're going to have a miserable time walking around town.
Where are all the smaller, lighter, travel sized boards?
Turns out there are a few on the market. Almost each brand of electric skateboard produces their own 'mini' electric skateboard.
Don't believe me?
Head to any random electric skateboard site and you'll see each manufacturer designs and produces their very own mini board(s).
Some smaller boards will even qualify as 'penny boards' - super miniature and kiddy looking boards.
Why Consider Buy A Mini E-board Or Penny E-board?
First things first…
Why should you even consider buying a board of such small proportions?
After all, we already know that longboard style e-boards are generally better performing and easier to control/ride…
Let's go over the pros.
Weight and Portability
A huge factor to consider whenever buying a board, no matter the size.
A mini electric skateboard will weigh a lot less than one of those 40 inch longboard with a battery the size of Texas.
Weight is an important factor especially when your board dies. A dead board becomes useless. All of a sudden you're riding around the city and next thing you know, you're lugging around the world's heaviest paperweight!
Another example where you might be carrying your board is in areas where skating is forbidden. Schools, busy sidewalks, private property, and other areas may be anti-skateboard, so picking up your board and carrying by hand is your only option.
With a mini e-board, carrying by hand really isn't too much of an issue.
Just consider this.
Imagine grabbing a 15 pound dumbbell and traveling across New York City.
Now imagine grabbing a 25 pound dumbbell and walking across the city.
10 pounds might not seem like a lot, but trust me, you'll quickly notice a difference. That's what it's like to carry a heavy electric longboard vs a smaller more compact mini board.
Easier Travel
Similar to portability, traveling with a big board is a hassle.
If you're bringing your board on a trip, it's more than likely not going to fit in a suitcase.
That means you're going to have to lug it around when you're not actually riding it.
An electric skateboard will take up a fairly large amount of space in your trunk, so going with the smallest board you have is your best bet.
Length and Maneuverability
Smaller electric skateboards will have an increased ability to maneuver around.
Although larger longboards will almost always have better control and a smoother ride, you're much more likely to smack something especially in tight areas.
There's been times when I rode on a sidewalk and I had to pass a few people.
Maneuvering around a tight knit group of people or any obstacles is going to be way harder when your board is 40 inches long.
Meanwhile mini electric skateboards under 30 inches will help you squeeze into tight spots.
Price
Electric skateboards are not cheap, there's no doubt about that.
But miniature electric skateboards will take a lot less of a toll on your wallet.
Often times, they'll be $300-$500 cheaper than their electric longboard counterparts.
That's a huge factor especially when buying your first board.
I know when I was looking for my first e-board, dropping $700+ seemed like an overkill.
Cheaper price can be attributed to less materials involved in the manufacturing of a smaller board.
Companies are also realizing there is a market for smaller and more compact boards.
Not everyone is just going for the biggest, fastest, and baddest board. The demographics and interests are changing within the industry.
If you're not willing to drop a ton of money, consider buying smaller.
How Do Small E-boards Compare In Performance?
Believe it or not, but smaller electric skateboards have fantastic power and performance when comparing them to electric longboards.
For many instances, the only difference between a company's mini e-board and longboard is the deck.
You can swap the battery between the two, meaning that the performance will often run the same between smaller and larger boards.
Take for example the electric skateboard company Ownboard.
The batteries they produce for all their boards are roughly the same, totally interchangeable between models. (Although certain boards offer different size batteries)
The Ownboard Mini KT and the W1S models have the exact same Dual Hub 250W motor and battery options. Only the length of the deck differs between the two.
The end result?
These two boards have the exact same range, top speed, hill climbing ability, etc.
This means you don't have to give up any performance for the expense of smaller size!
Now, let's look at Boosted.
Turns out that Boosted offers two different batteries for all their boards.
1. A 'standard battery' which packs a range of 7 miles.

2. An 'extended range battery' which pushes the range to 14 miles.
For the most part, their batteries are compatible and interchangeable with all other models. Smaller boards can be fitted with an extended range battery, just like the longer deck boards.
This means purchasing a smaller board like Boosted Mini X at 29.5 inches, will give you roughly the same performance as the Boosted Stealth at 38 inches.
The only difference between each model is the power of the motor and length of the deck.
Score 1 for the mini boards!
What Are The Best Mini Electric Skateboard Models?
Now it's time to get down to business.
We want the full list, of the best miniature e-boards you can buy right now.
We'll give you the whole breakdown.
That includes:
1. Top Speed
2. Range
3. Weight Capacity
4. Incline Rate
5. Deck Size
6. Weight
7. Motor
8. Cost
All the information we get will be relevant to 2020 time frame, so don't be surprised if these boards and models change over time!
Let's get started!
Ownboard Mini KT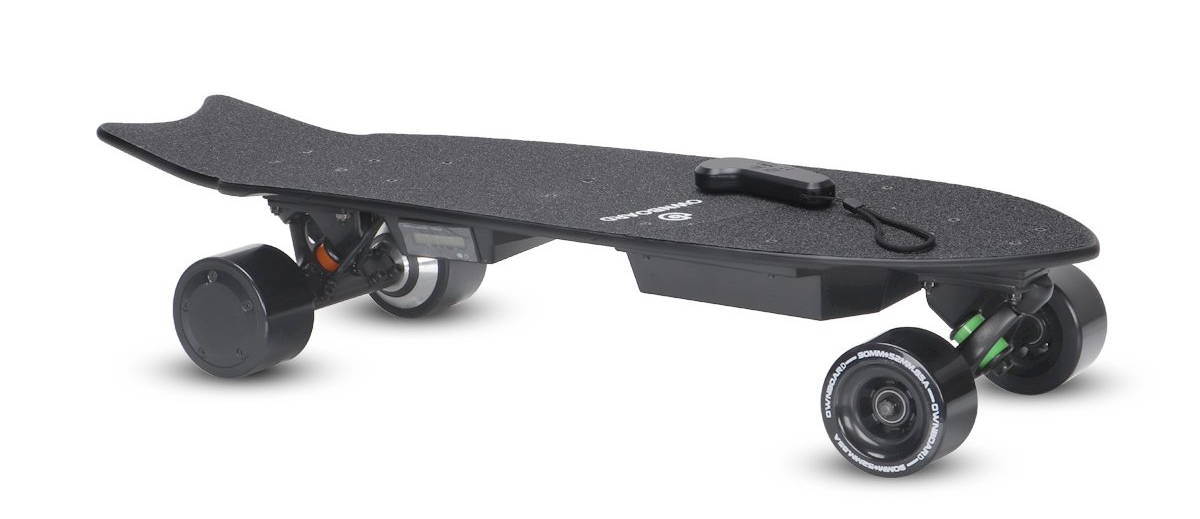 Top Speed: 25 mph
Range: Depends on battery: 14 miles for Samsung 6.0Ah, 19 miles for Sanyo 8.1Ah.
Weight Capacity: 265 lbs
Incline Rate: 30%
Deck Size: 30 inches
Weight: 17.2 lbs
Motor: Dual Hub 250 Watts
Cost: Starts at $449
I bought a Mini KT a few years ago. I used it to travel to the train station which I would then take to school every day.
The area where I live is hilly and uneven, and wouldn't qualify as the best area to ride your electric skateboard.
It didn't matter…
This thing had no problem carving up my local neighborhood. It has more than enough power, range, and speed. It would easily climb a 200 foot hill on my street.
It was kind of a shocker how much of a beast this Chinese brand board was.
Super underrated.
I highly recommend giving it a try. And for a price of $449, it's a total steal. If you want an increased range of 19 miles (over the standard 14), you can buy the more expensive Sanyo Tesla 8.1Ah battery for a total price of $549.
That's why this board ranks in at Number 1!
Boosted Mini X
Top Speed: 20 mph
Range: 14 miles
Weight Capacity: 250 lbs
Incline Rate: 20%
Deck Size: 29.5 inches
Weight: 18 lbs
Motor: 1,000 Watts
Cost: $999
Boosted has by far been the most popular electric skateboard brand available. Their boards are more expensive than the average, but still offer good performance.
The Mini X was unveiled along with its brother the Mini S on April 14th, 2018.
The announcements revealed the two boards as cheaper, smaller, and more affordable versions of the Boosted brand.
The Mini X offers a concaved stiff deck that still offers fantastic control and agility. You can easily make sharp and tight turns around corners. Pair this board along with the super reactive and sensitive remote, and you have one heck of a product.
Evolve Stoke
Top Speed: 22 mph
Range: 10 miles
Weight Capacity: 220 lbs
Incline Rate: 30%
Deck Size: 33.5 inches
Weight: 17.9 lbs
Motor: Dual 1,500 Watts
Cost: $1,299
This board is right there on the cusp of being a mini board…
It's 33.5 inches in length, making it fairly long for a skateboard style e-board. I never got to test this board in person which is a shame because I'm a huge fan of the Evolve Carbon GTR series.
If this board is any what similar to the Carbon GTR, it's surely a beast.
Evolve is super expensive but the boards do not disappoint.
The dual 1,500 watt motor almost seems like an overkill, but the reviews seem to be all 10/10 for this board. Approved!
Meepo Mini 2 ER
Top Speed: 29 mph
Range: 20 miles
Weight Capacity: 300 lbs
Incline Rate: 30%
Deck Size: 30 inches
Weight: 18 lbs
Motor: Dual 540 Watts
Cost: $609
The upgraded version of the Meepo Mini 2. This board had un-paralleled performance.
When you look at the stats of this board, there's absouluty nothing bad to say about it. In fact, the specs of this board blows the top off any other board you put it up against.
And for a reasonable price of only $609, why the hell wouldn't you buy this board.
For this price, you can buy 2 Evolve Stoked boards…
And if this price is still too expensive for you, you can just buy the plain old Meep Mini 2 (No ER battery) for $409. The only difference is a 11 mile range.
It's quite mind boggling how good this board is.
The only negative I've seen is that the board is too fast. With a top speed of 29mph and a short deck, it's no surprise see that complaint. I don't recommend riding THAT FAST, due to the dangers of speed wobbles and risk of injury.
Nonetheless, all the other reviews were fantastic.
WowGo Mini
Top Speed: 23 mph
Range: 12 miles (Can be upgraded)
Weight Capacity: 330 lbs
Incline Rate: 30%
Deck Size: 28 inches
Weight: 15.4 lbs
Motor: Dual 250 Watts
Cost: Starts at $379
WowGo is another one of those Chinese electric skateboard brands that's turning the market upside down.
Not only does the board offer better performance than the Boosted Mini X, but it comes at more than half the price.
But don't just read the specs, the board also rides great. Takes fantastic turns, agile, and doesn't feel too stiff.
While it's not number 1 on the list, it certainly has to rank pretty high.
Don't forget, paying $379 is like paying pennies for a board with such great specs. And weighing only 15.4 lbs with a 28 inch deck, this electric skateboard is the definition of portable.
Don't be afraid to look around at their other boards and options as well!
Leafboard Plus
Top Speed: 20 mph
Range: 12.4 miles
Weight Capacity: 240 lbs
Incline Rate: 20%
Deck Size: 25 inches
Weight: 10.5 lbs
Motor: 1800 Watts
Cost: $489
The Leafboard company originally started out as a Kickstarter campaign.
You can say that Leafboard was one of the original mini electric skateboards that helped push the movement for smaller, cheaper, and more compact boards.
The board gained a lot of media attention and gained a lot of donations and backers.
The end result?
Leafboard was able to launch their company!
Now Leafboard has 3 different boards available for purchase with super stylish and unique designs that are so much cooler than all the other bland looking e-boards out there.
Not to mention it's the lightest electric skateboard on this list!
You can even choose the type of wood your deck is made out of:
Birch

Bamboo

Oak

Walnut

Elec
If you're interested, you can also upgrade the standard wheels to Orangatang Kegel 80mm Wheels for an added $40
MaxFind Max 2 Pro Dual Motor
Top Speed: 24 mph
Range: 15 miles
Weight Capacity: 220 lbs
Incline Rate: 25%
Deck Size: 31 inches
Weight: 14 lbs
Motor: Dual 600 Watt = 1200 Watts Total
Cost: $619
I've rode multiple MaxFind boards and can say they are fantastic e-boards made of great quality.
The Max 2 Pro is no different.
First of all, the board has a beautiful design finish to it. It's the world's first diamond cut electric skateboard.
The deck is 31 inches long and only weighs 14 pounds, so while we classify this as a 'mini' electric skateboard, it's still got a decent deck size to weight ratio!
The Max 2 comes in two different versions.
Dual Motor

Single Motor
For this list, we chose the Dual Motor, thanks to it's improved specs over the single motor. That being said, the single motor is $90 cheaper and still boasts fantastic performance as well.
Acton Blink S2
Top Speed: 18 mph
Range: 14 miles
Weight Capacity: 250 lbs
Incline Rate: 20%
Deck Size: 31.5 inches
Weight: 15 lbs
Motor: 1000 Watts
Cost: $599
Acton is one of the more well known brands of electric skateboards thanks to the Acton Blink S2.
They do offer 2 other boards for sale on their website, but none are nearly as popular as the Blink S2.
While it's not the fastest e-board alive (top speed of 18 mph) it's still a very fun board to ride since it offers fantastic control and smooth riding.
And for an added safety feature, the Blink S2 comes with front headlights, rear tail lights, and side lights, to make you visible at night. It also illuminates whatever is in front of you.
Another great feature about Acton is their app which is available on the App Store or Google Play.
The app can track your board, rides, battery level, projected range, and compare your ride miles with other Acton riders around the world.
If you're still questioning the ability of this board, consider this…
The Blink S2 has a 5/5 star overall rating from it's reviewers.
Atom B10
Top Speed: 16 mph
Range: 7 miles
Weight Capacity: 275 lbs
Incline Rate: 12%
Deck Size: 29.5 inches
Weight: 11 lbs
Motor: 1000 Watts
Cost: $449
Let's be honest.
The atom doesn't have the best performance. It's range is rather low and the top speed isn't fantastic either.
And a 12% incline rate means you'll have trouble going up even the smallest of hills.
Kind of surprising considering the motor has 1000 watts of power.
Even though this board is rated for someone up to 275 pounds, it's really meant for children and teens.
I think for someone of lighter weight, this board would be great. But if you're heavier, scratch this off your list and consider something else.
The board and deck (made of maple) has a rather nice design and artwork.
Swagtron Spectra
Top Speed: 16 mph
Range: 12.4 miles
Weight Capacity: No info available*
Incline Rate: 15%
Deck Size: 19.4 inches
Weight: 12.5 lbs
Motor: No info available*
Cost: $799
The Swagtron brand seems like it produces a decent line of products.
Hoverboards

Electric Scooters

Electric Bikes

Electric Skateboards
Many of which seem to be of good quality and have really cool modern designs.
But of the e-boards they sell on their page, I had trouble finding basic info like deck size, the power and size of the motor, and other valuable information.
That being said, the Swagtron Spectra truly is a definition of a mini electric skateboard. It's only 19.4 inches long, making it the shortest and most compact board.
No seriously, you could easily fit and carry the Spectra in your backpack.
But the coolest feature about Swagtron?
They have an app where you can control your board from your phone, lock it for safety reasons, choose ride modes, and much more.
Conclusion
While it may be tempting to throw over $1,000 on an electric skateboard, you need to realize that smaller e-boards are much cheaper and offer nearly the same performance as those giant and super pricey electric longboards.
Small boards may be a much better option if you're a commuter.
Many are small enough to fit inside a backpack, making them a fantastic option for those who take the bus, train, or walk to work or school.
As always, riding an electric skateboard no matter the size, can be dangerous.
From personal experience, riding a smaller board is even more dangerous since you're feet have less room and a smaller base (making you more tip-able).
Always proceed with caution and slow down if you must! Speed does kill!
I hope you found this article useful and you consider some of these boards for the future.
Cheers!