How do you make noise in the electric skateboard market?
By providing a board that offers power, great handling, a solid range, acceleration/speed, easy to carry, and offers a smooth comfortable ride.
All at a starting retail price of $499.
We're talking about the Maxfind Max 2 Pro electric skateboard.
Why MaxFind?
Make no mistake, there are are a ton of valuable electric skateboards to choose from, many of which offer fantastic performance specs.
But these Chinese brands like Maxfind have been seriously competing for market share with their low prices and fantastic quality.
Remember, not everyone wants to sell their soul for a board, especially if you don't ride religiously. The Boosted Plus 2nd Gen retails for $1,400 and the Evolve Bamboo GTR starts at a whopping $1,999 (depending on the wheel setup and style board you choose.)
Cheaper options are available on the market, but many are of poor quality and a waste of money and time (trust me don't buy a board like the $250 Urban 17" portable electric skateboard on Amazon.) But right in between cheap and expensive, is a board that runs like it's expensive. The MaxFind electric skateboard.
It comes in 3 different styles:
Single Motor

Dual Motor

Dual Motor Pro
For this review, we'll be covering the single motor version, since it's the cheapest option available, and we believe it the best offer for your hard earned money. Let's get started!
Performance Specs
With a weight of 12 pounds, the Maxfind electric skateboard is much lighter than other boards at 31 inches.
The deck is made of Polyurethane Plastic and Fiberglass and is covered with new generation rubber and anti-slip sandpaper. The material is extremely grippy but is soft on the skin to prevent scraping of the skin, just in case you ever take a spill on the board.
Overall it gives a great feeling of control and placement to the deck. The underside of the board is beautiful. Smooth finish with a design made to appeal, it's unlike other electric skateboards. It also holds the title for being the first diamond cut electric skateboard.
MaxFind states the Max 2 is tribute to Cadillac, inspired by the automobiles diamond-cut design which can be seen from the side, the tail or the back.
In order to create such a light and delicate body texture and edge design, the Max 2 uses a high-strength synthetic composite material making the board very solid. The wheels are 90mm and are easily removed and swapped using the multifunctional T-tool. Similarly, the deck is easily swappable as well.
The battery on the board is a 4.4Ah 36V lithium-ion that allows the motor to produce 1000 watts and only has a two hour charge time. The Max 2 is one of the few electric skateboards which can be taken on airplane! The board is FAA approved for air travel, no need to worry about security confiscating your ride!
Performance
The MaxFind electric skateboard is a very capable board. Able to hold someone of 265 pounds, and has a top rated speed of 19mph (varies per rider weight and road conditions.) It has a stunning range of 16 miles.
Just a little tip for you guys. Electric skateboard companies generally test the range of their on the highest speed setting. If you wish to increase your range or ride longer, put the board in a lower speed mode, and you'll find that you can push the (MaxFind) board 25 miles or more, much past the manufacturer's suggested distance.
This doesn't just go for the MaxFind, this goes for every single battery powered board.
Hill climbing is always a valuable test to see the power of a boards motor. I recently purchased a mini electric skateboard with a 150-watt motor… the board didn't even budge on the slightest incline.
The Maxfind Max 2 has no problem climbing up steep hills. If you purchase the single motor version, you'll be able to glide up a 25 degree incline.
And if you truly need more power both Maxfind dual motor versions can climb up on a 35 degree incline, which is well even greater than some of the top brands out there. I've seen boards climb at a 25%-35% incline rate, but never above that.
MaxFind states the Max 2 is IP65 water resistant, allowing it to get wet and having no problem riding through puddles. But in order to keep your board safe from damage, I would not completely submerge it underwater.
Another important note to look at when purchasing an electric skateboard is the remote. MaxFind's Bluetooth wireless remote is high quality, feels sturdy, offers forward/reverse gear control, and an auto cruise feature (so you don't have to hold down the stick all the time); not seen on many electric skateboards.
Overall, this remote is comparable to many other top brands remotes such as Meepo and Boosted.
I'm ready to buy! What's in the box?
When you purchase your board, you'll receive...
MaxFind Electric Skateboard Max 2 – Fully charged and ready to ride

Bluetooth remote and sling

Universal wall charger

USB charger cable - for charging the Bluetooth remote

All-in-one multi-function tool - for board and wheel maintenance.

Instruction manual
Comparison to other boards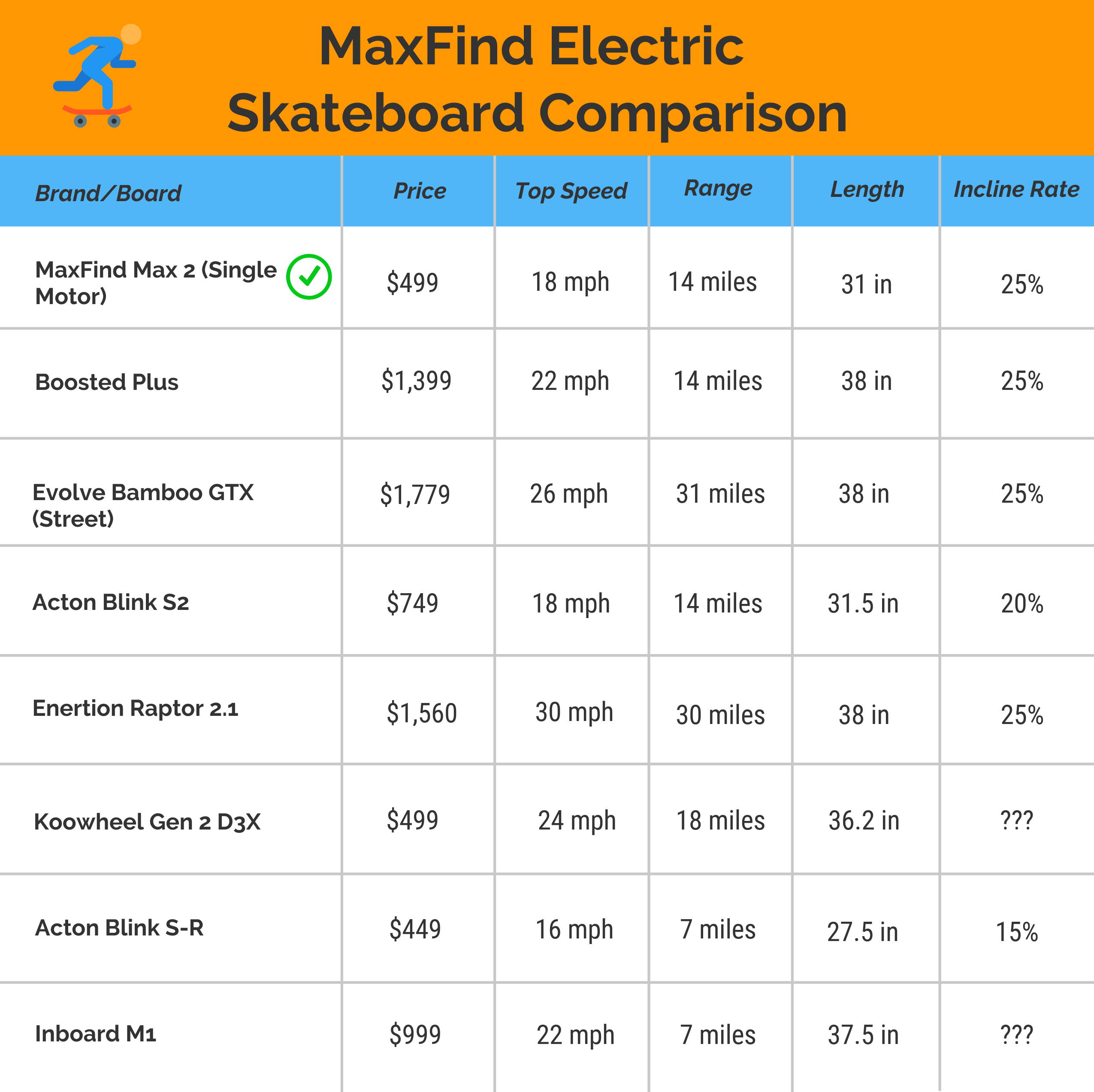 Here are few other top of line electric skateboards out there and how the MaxFind Max 2 stacks up against them. It competes very well on price, but pushes performance with the most expensive models!
Reviews and Ratings
MaxFind's reviews and customer service rating are all positive.
Many riders fear if you don't invest $1000 into a board or more, you'll be left disappointed. Not the case with MaxFind. Many of these new Chinese electric skateboard companies are making some serious noise in the market, by offering incredible performance for one-third of the price.
Maxfind's board is proven to last and you can keep on riding. And if you ever run into any issues, there's a 6 month warranty on the board.
Conclusion and where to buy
As with all electric skateboards, there are a ton of benefits! Bypass city gridlock, fly by public transit, environmentally friendly, portability, never wait for taxi or uber to arrive, and they are a ton of fun to ride!
The Maxfind Max 2 is a very underrated board, and one that is certainly worth your money, especially considering the other more expensive options on the market. As of right now the dual motor version is rated number eight in the top 15 electric skateboards out on the market.
If you are interested in purchasing the MaxFind Max 2 electric skateboard you can get all three versions here on our website. We are 100% an authorized dealer and if you buy right now we will ship out the same day of your order! Thanks for reading and happy gliding!