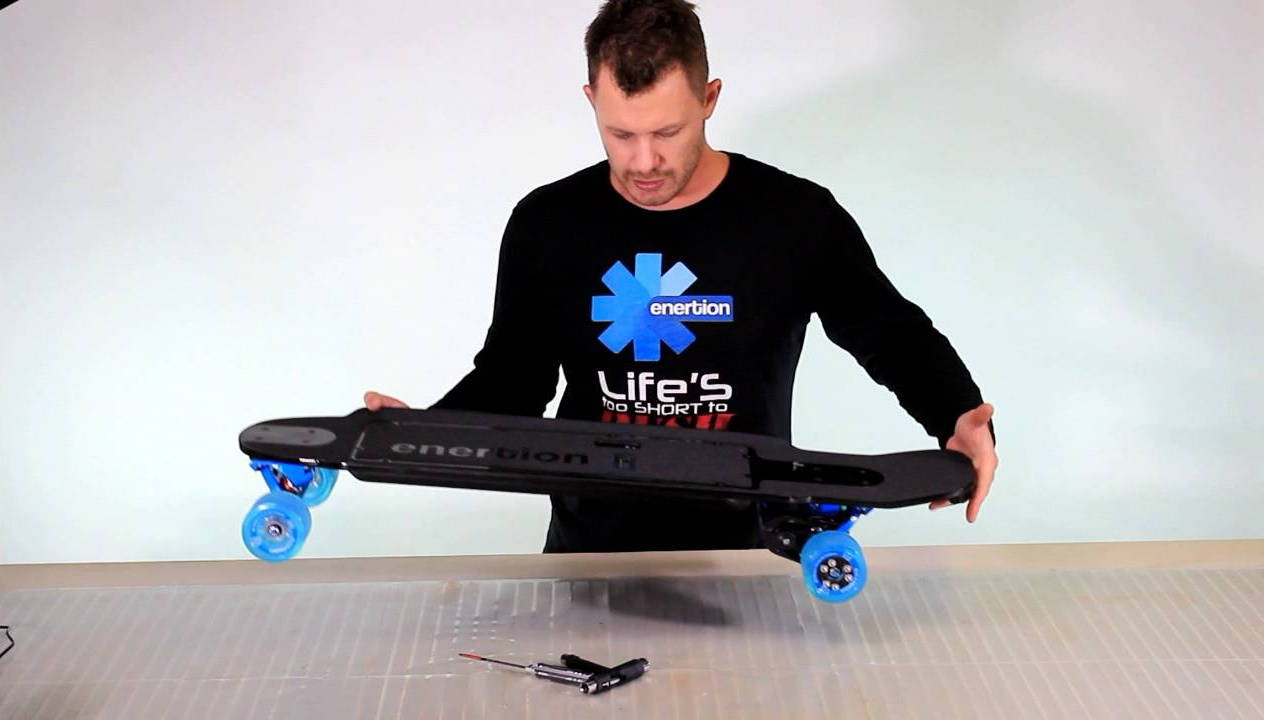 You wake up in the morning and you realize you're late to work. You sprint out of bed and get ready as fast as you can. "I'm not gonna make it to work on time" you tell yourself.
Oh well, at least you can salvage it, you'll hurry up and you'll only be a little late. On top of it, you commute to work on an electric skateboard, so you know you can always pick up speed to catch up on a little time.
Right as you walk out the door you hit the power button on your electric skateboard… and to no avail. Your worst nightmare has been confirmed, your electric skateboard is busted…
What do you do now?
Well at this point I can't help you get to work on time, you'll have to figure out some other mode of transportation. But, what I can help you with is figuring out how to repair your electric skateboard.
So without wasting any more time, let's help you get back on the road.
Why Your Board Isn't Working
The first and most important part is to figure out what part of your electric skateboard isn't properly functioning.
If your electric skateboard won't turn on it's most likely damage to your battery, if you are experiencing speed wobbles, it could be your trunks. If your remote is not working, it could be the connection to the board.
All these are possible issues that you have to diagnose. Maintenance is a great way to prevent issues from even happening in the first place. Just like putting good gas in your car, you'll reap the benefits from giving your electric skateboard the proper care.
If you electric skateboard is definitely in need of a fix, try to fix it yourself. But don't go into to unfamiliar territory where you could damage your electric skateboard even more.
If you don't know what you're doing I suggest just sending it in for repair to the manufacturer. If your electric skateboard is still under warranty, send it in for a replacement or refund. And lastly if you're board is beyond fixable, salvage what you can and keep the rest.
Common Problems With Electric Skateboards
Battery won't turn on

Inspect your battery for water damage or trauma. Try charging your board and see what kind of response it gives you. If your board still won't turn on check the manufacturers website or manual.

Battery won't charge

Inspect your battery for water damage or trauma. Make sure the socket you're plugging in to charge is working. Try turning your board on and off a few times, hold the battery button down for a few seconds. If your battery still won't charge check the manufacturer's website or manual.

Board rides funny

Inspect your board, check your trunks and wheels, try to tighten and if this doesn't work try untightening. If there's still a problem take off your trunks and or wheels and put them back together. Swap the wheels and trunks and see if it does any better.

Trunks and wheels misaligned

Simple fix that just generally needs some realignments. If this fails you might have damage to the trunks, wheels, or underside of your board, and you may have to purchase new parts.

Speed wobbles

Tighten your trunks and/or place more of your weight on the front foot. Bad balance and stance causes speed wobbles. Weight on the front of the board counterbalances the issues.

Squeaky trunks

Tighten or untighten your trunks until there is no lateral movement of the wheel

Low range issues

Battery could be old and or damaged. Try draining your electric skateboard's battery completely. If this doesn't work you will likely have to replace it. Contact the manufacturer.

Bad acceleration and speed

Inspect your board. Battery could be old or have retained some type of damage. Throw your electric skateboard upside down and check to see how the wheels and motor responds when you hit the throttle. If you still have a problem make sure there is no debris lodged anywhere. Check the manufacturer's manual and website.

Clicking bearings

Regular and normal occurrence, especially with the drive wheels. Often the axle nut is too tight and will cause one or more bearings to click. Tighten the nut so there is no lateral movement of the wheel. Using grease or oil can also help parts move better.

Sounds when braking

Most likely a problem with your belt. Adjust the belt tension. You will have to take off the motor cap and tighten the belt. You may need some extra tools and you will have to check the process on the instruction manual.
Maintenance
I highly encourage everyone to take care of the electric skateboard more so than they do now. Many people just ride it and then drop it somewhere only to pick it back up when it's time to go out.
Taking care of your board will mean it will take care of you. If you treat it like shit, then you'll be left with an electric skateboard that doesn't last as long. This means removing all the debris from your electric skateboard when you come home after a ride. This also means to charge it when the battery fully drains and always inspect your wheels and trunks.
Make sure everything is fastened down tight, and if need be tighten everything more. But do not over tighten otherwise you could break a nut or piece of your board, and you will be left with more repairs. Make sure the deck is intact and the grip tape is not peeling off. If it is peeling off you could just add some new grip tape on the top.
Be sure to store your electric skateboard in a place that is free from dust, liquids. and harsh temperatures. Don't leave it outside so that the weather can dump the elements on it. Every once in awhile make sure to completely drain the battery and then fully charge it back up again. Doing so is healthy, and will increase the lifespan of your battery and electric skateboard.
Service and Repair
If you know your electric skateboard is damaged and can be fixed but you don't know how to do yourself it's time to send it into service and repair.
I always suggest going to a manufacturer over finding a local electronics or skate shop to fix your stuff. I'm not saying they can't fix it, but I'd rather have someone who created and designed the board work on it rather than some stoner at the skate shop. Manufacturers tend to have a solution to your problem, as well as some tips and tricks to help you prevent it the next time.
If you go with a really shity quality brand, that doesn't offer a website you're going to be shit out of luck.
When I bought my Urban mini electric skateboard I couldn't find any information or a website regarding the board. I wanted to contact somebody but had no way of doing so. Luckily the purchase was through Amazon so I just returned it for a full refund.
Do It Yourself
If you can you should always try and repair and service your electric skateboard yourself.
Depending on what brand you bought, you should be able to find information on their website regarding service and repair. Some brands are better than others, so this is why I highly suggest checking out what kind of support electric skateboard brands have before purchasing one.
A company like Boosted has a ton of information on their website and a complete Support Page on how to fix your electric skateboard yourself. Sometimes this is not possible due to the damage and complications that you may be facing.
But doing it yourself will help you learn more about your board and save you time and money since you won't have to send it out for repairs.
Simple things can always be tweaked and fixed such as loose nuts and trunks, misaligned wheels, and peeling grip tape. But when your battery and other electrical features start failing it's time to start looking professional help.
Warranty
All electric skateboards should offer some kind of warranty.
They generally last from six months to a year. If at any time your electric skateboard stops working for whatever reason during a warranty period, take photos or videos of the issues and send them to the manufacturer.
You will also have to send in your board as well, and they should find a replacement for you or give you a full refund. Always take advantage of warranty, I've heard of some people who's board stop working, don't do anything, and now they're left with no electric skateboard and a hole in their wallet.
My Ownboard Mini Kt only offers a warranty period of 3 months, and their terms page is states that they don't offer many refunds, only repair services.
This is one of the dangers of purchasing an electric skateboard from a Chinese company, but I will say their quality is absolutely incredible and I have never had any problems with my board, so I'm not worried about any issues.
Salvage And Move On
If your board is beyond fixable it might be time give up and just salvage the pieces.
If your battery is beyond fixable, save the deck, trunks, wheels and just buy a new battery.
Most electric skateboard companies sell replacement batteries on their website that you can just purchase at any time. It's not going to be cheap but it's going to be better than buying a new board at full price.  
If you have a deck that is beyond repair just swap it out with another one, you can buy one from the manufacturer's website or you might even be able to swap out any old skateboard deck. If it's a regluar skaeboard deck, you may have to strap the battery on and make sure it's connected to the motors on the wheels.
This is similar to the Eon electric skateboard brand and company, which produces powertrains for electric skateboards, allowing you to convert any regular old skateboard deck into an electric one.
Conclusion
If you're having trouble with your electric skateboard I highly suggest you look at all your options.
First, see if you can fix it yourself and if not try and send it in to service or repair. Generally, this can all be avoided with good maintenance and by keeping your board clean. Treat your electric skateboard like your best friend. If nothing goes your way then just salvage what you can and move on.
Electric skateboards of today are made with incredible quality and craftsmanship. I have never had any problems with any of my boards and neither should you. But if you do, now you'll know what to do. Cheers and happy gliding!