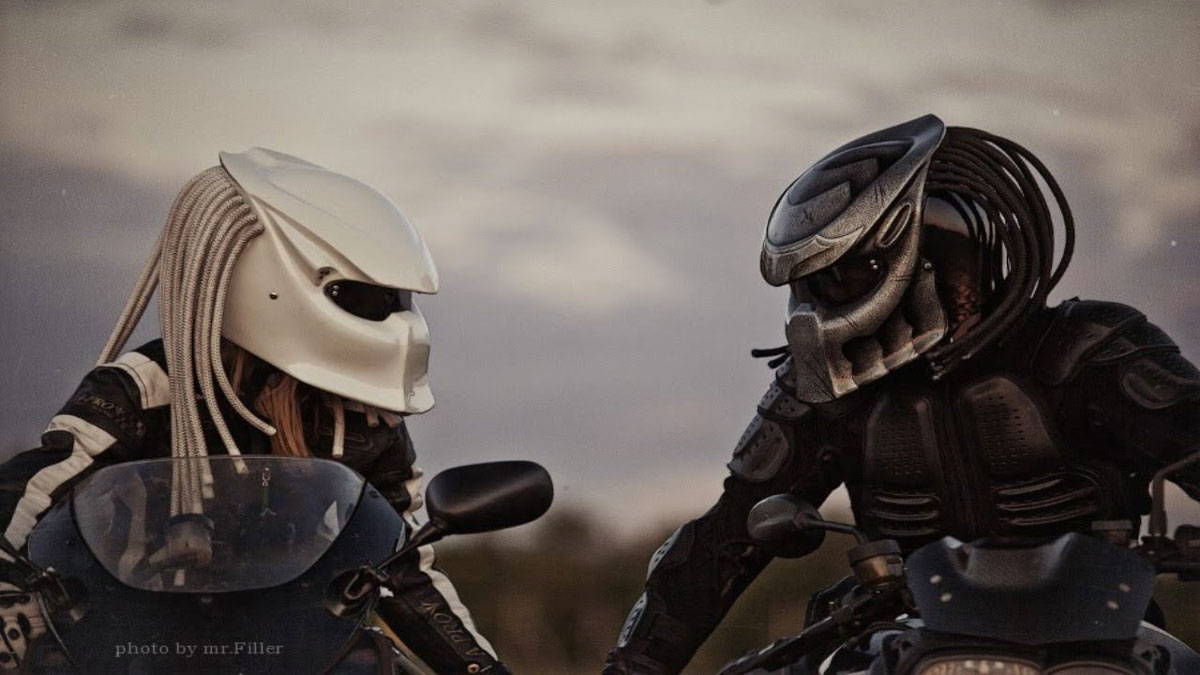 If you already own an electric skateboard, you have one of the coolest devices on the planet. You can literally glide around a magic carpet anywhere that has a street.
But what's the only way to make your electric skateboard cooler?
By having the most awesome electric skateboard accessories! Below I have made a list of the top 40 electric skateboard accessories you need to have from bags, helmets, equipment, apparel and more! Cheers and happy gliding!
Bags, Backpacks, and Carrying Cases
Boosted Board Converting Carrying Case
If you ever find yourself traveling and need to carry your Boosted Board, or any other longboard for that matter, this is for you. Inside straps hold your electric skateboard in place securely and safely. Carry the bag in multiple ways. It also has a sling so you can throw it over your shoulder. Even better you can convert this duffle bag into a backpack. It has multiple outside pockets to store your accessories.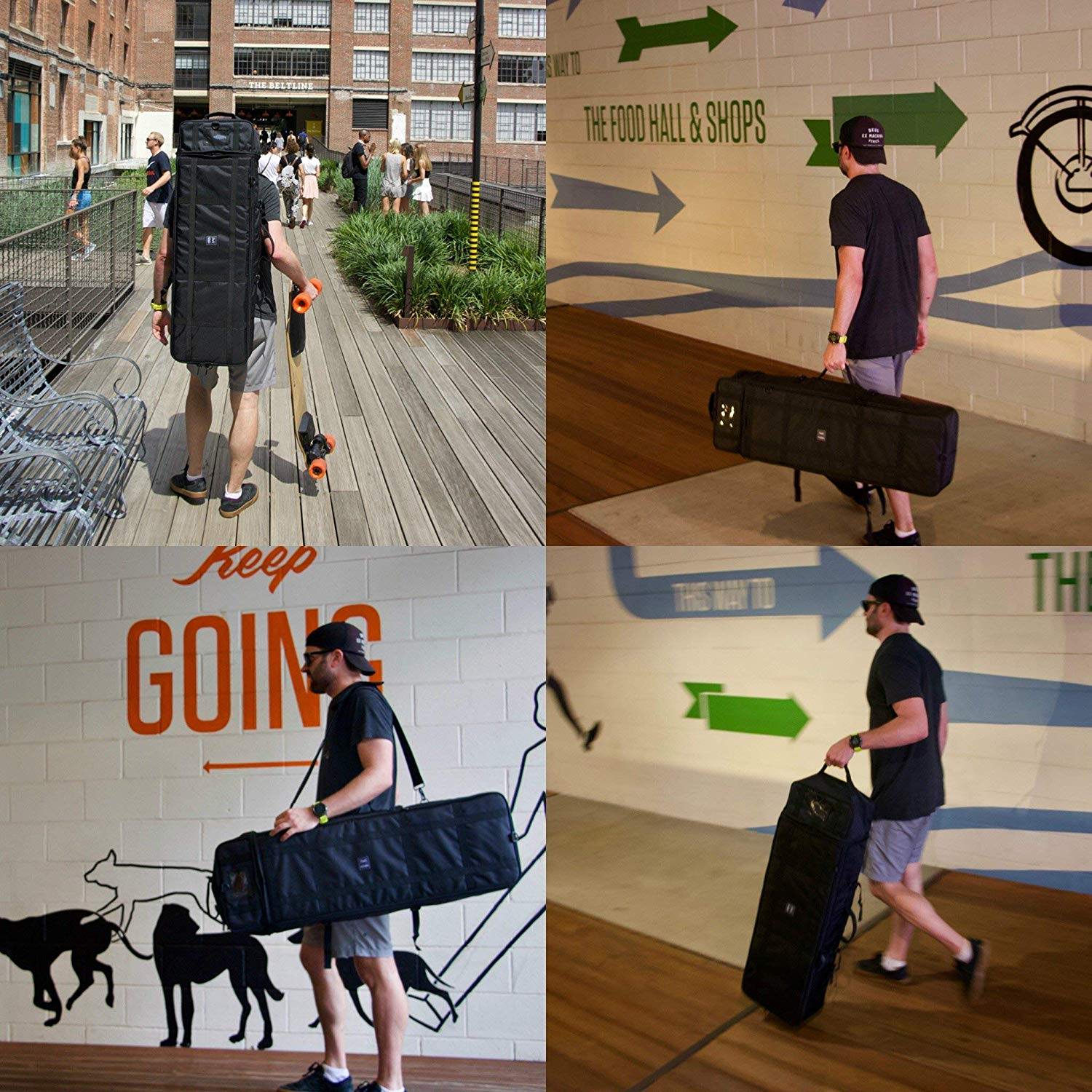 Electric Longboard Backpack
I thought this was really cool. Pretty much a normal looking a backpack that opens up where you can throw your electric longboard in. It's designed to fit the Boosted longboards but I see no problem strapping other brands in. Straps hold down the board and offer added safety and cushioning to protect your board and belongings. Added pockets to carry your phone, keys, chargers, etc.
Boosted Heavy Duty Duffle Bag
Another carry case that can easily fit your electric longboard, other skateboard accessories. The bag has great reviews. It designed mainly for electric longboards and was created for Boosted. Check their full description to see what electric skateboards it is compatible with. This bag is really heavy duty and made with some serious quality that'll last a long time. It's a total cost of $48.
Backpack deck hooks
Very simply, these are hooks that you place on your backpack to carry your electric skateboard. It is not compatible with certain backpacks nor certain boards. You'll have to check the Amazon listing to confirm what's compatible. Very useful tool to upgrade your backpack and you won't have to carry your board around by hand everywhere.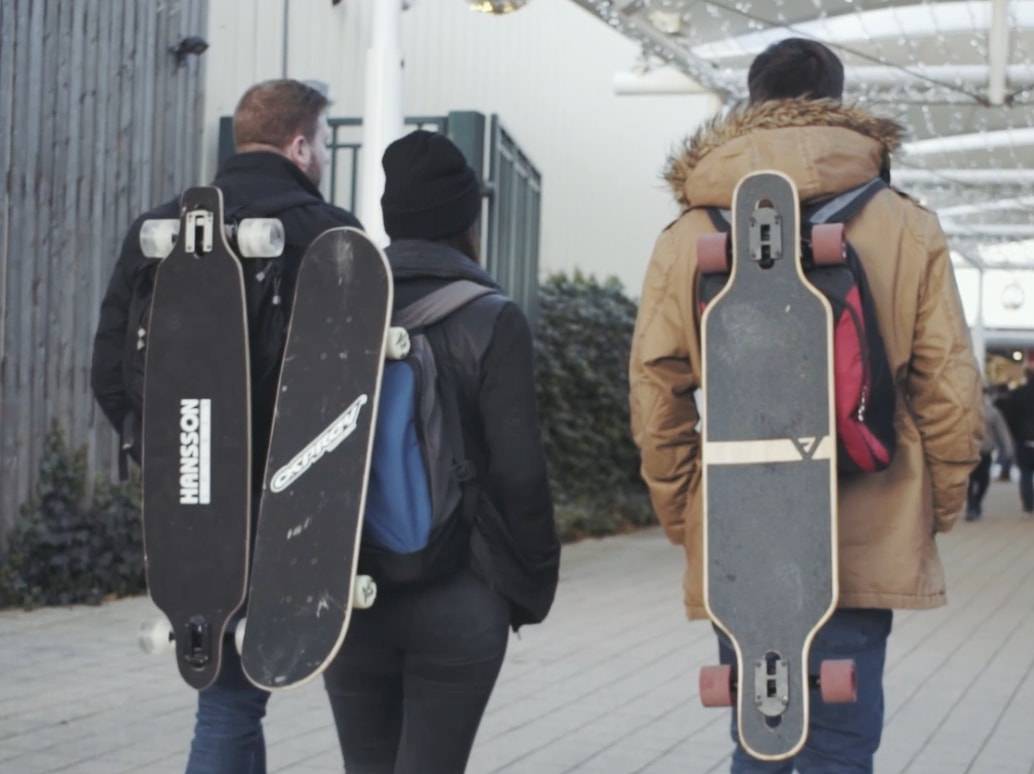 Helmets
Flybar Skateboard Helmet
I picked this helmet for it's awesome reviews. Very lightweight and can easily be adjusted to any size head for a snug fit. Comes in 9 different styles for your liking. Certified and tested for riding on bikes, skateboards, roller skating, scootering, and everything else you can think of. It also has a nice design and protects the back of your head from slips and falls when you land on your back.
Razor V-17 Neon Orange Helmet
Perfect helmet for youth riders. The helmet has 17 vents that provide circulation to the head on hot days. Offered in a variety of colors many of which are brightly colored and help with visibility. Has over 1,300 reviews with an average of 4.5 stars out of 5.
Mongoose MG77927-2 Hardshell Helmet
This helmet is a total badass. Awesome Skull design, protective multi sport padding, air vents for maximum cooling, 360 degree internal protection for a comfortable fit, tough outer shell for increased durability. What's not to love about this helmet?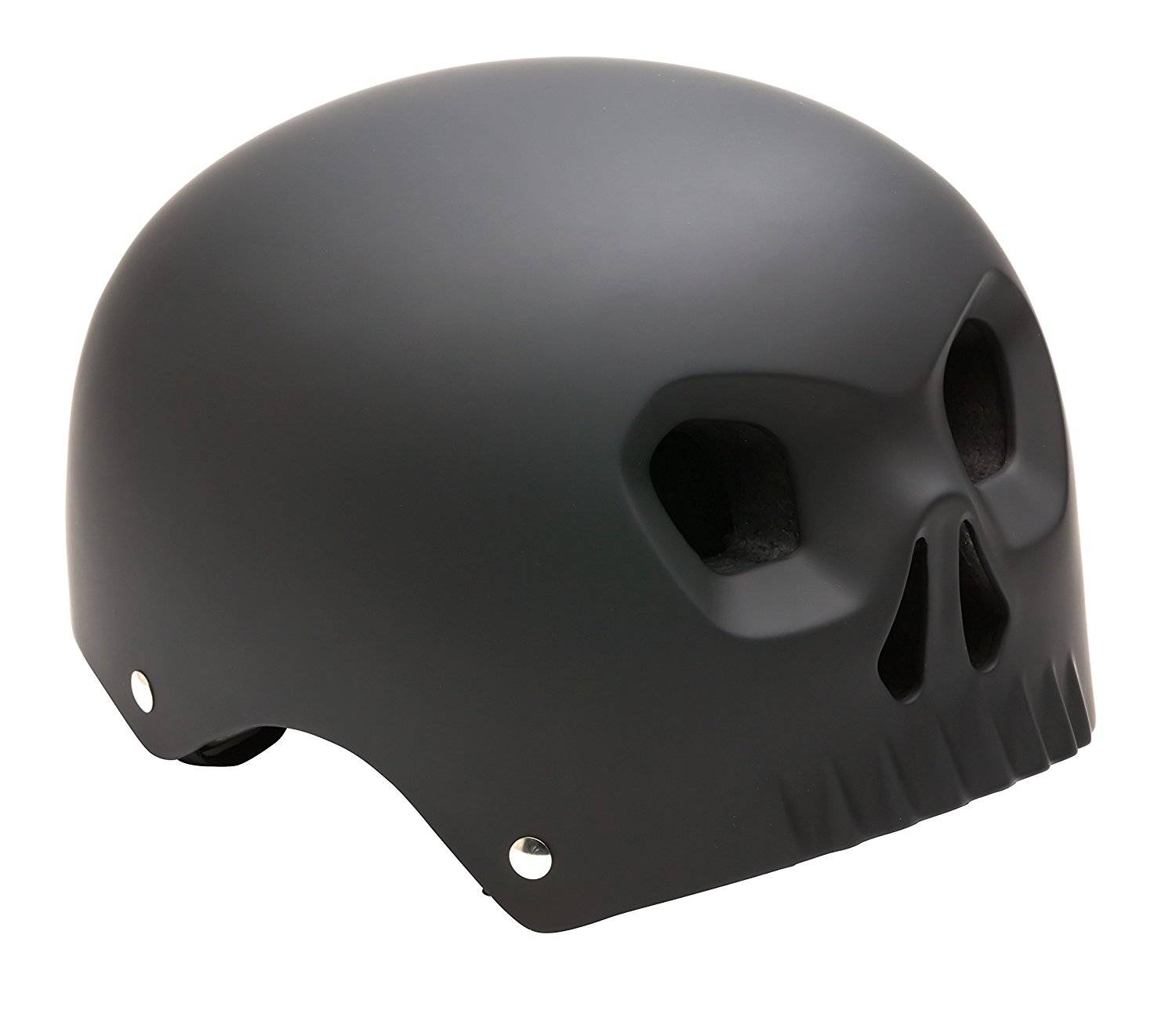 Thousand Anti Theft Helmet
This helmet isn't just built for protecting you. It's built for protecting itself from potential burglars. What makes it unique is the secret pop lock lets you lock the helmet with whatever you're riding. Simply pop open the little button on the side and slip your bike lock through and voila.
Morpher Flat Folding Helmet
Helmets are large, bulky, and take up space in your backpack or bag. A big reason why people don't wear helmets is because they don't know what to do with it after you're done riding. The Morpher Flat Folding Helmet solves all of that. It also doesn't sacrifice protection, the helmet is still rated to all safety measures. By far my favorite helmet on the list. You'll never want or need to buy another helmet after this one.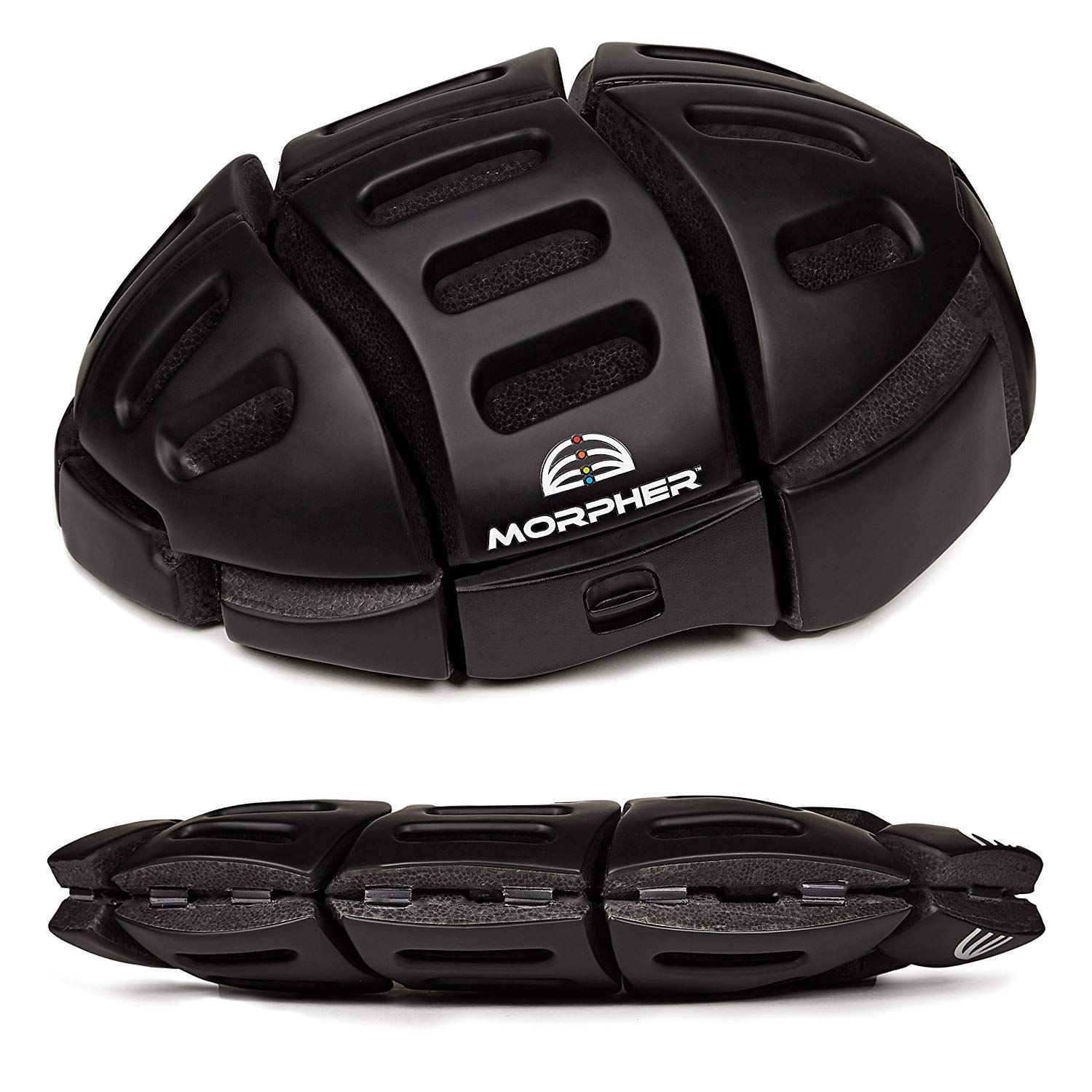 Critical Cycles Helmet With Led Light
Preventing an accident means people seeing you before they even have a chance at hitting you on your electric skateboard. This Critical Cycles Helmet offers a rear LED light to increase your safety on the road. Double the protection for double the safety. Just dial the knob on the back of your helmet and the light turns on. Perfect for nighttime riding.
Padding and Apparel
Mongoose Elbow and Knee Padding
The Mongoose brand lands on this list once again. This set of elbow and knee padding have over 1,300 reviews with a rating of 4 out of 5 stars. Shock absorbing gel and breathable mesh will help keep your knees and elbows protected in the case of a hard fall.
JBM Elbow Knee and Wrist Padding
The padding set comes with the full set of protection for your knees, elbows, and wrists. Velcro straps allow for tight and secure fits. Wrist guards are included which are underutilized by many riders today. Protect those wrists and your hands!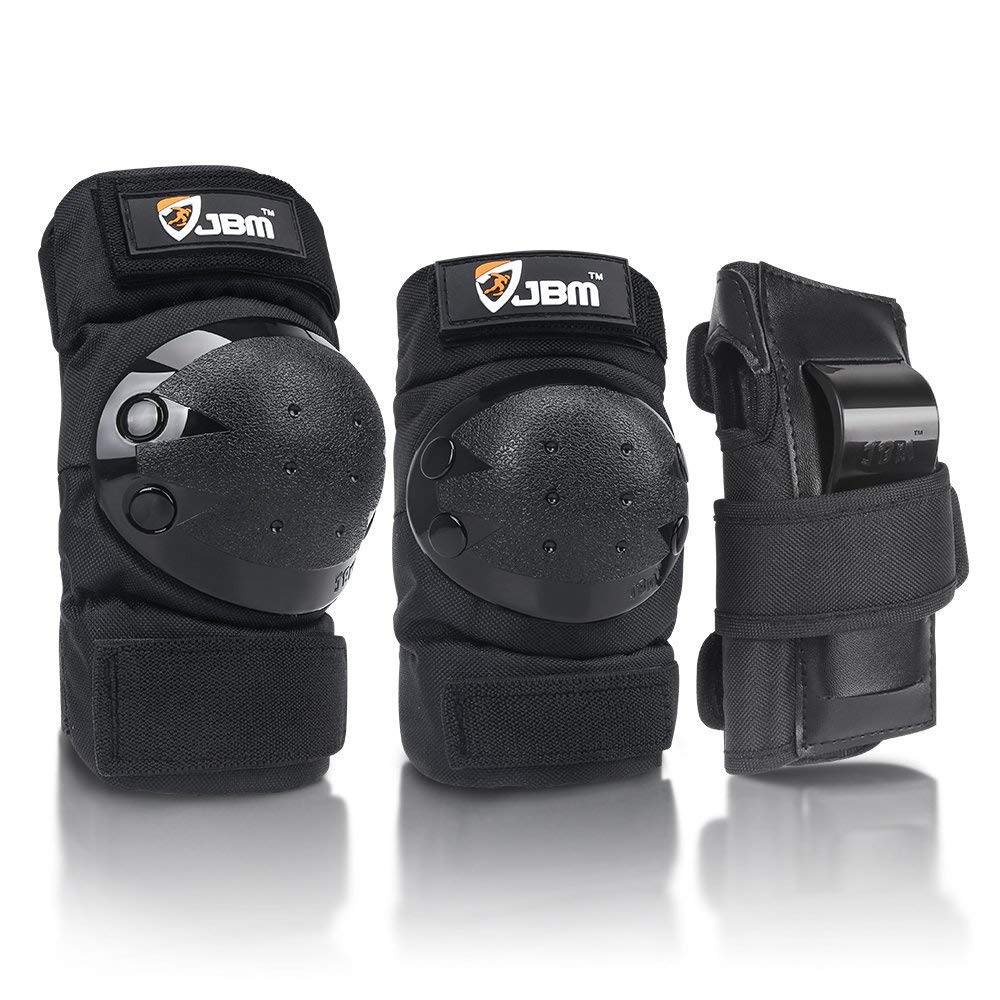 KUYOU Padded Shorts
This might not be the most popular form of padding, but it sure helps when you fall on your butt or thighs. Often used by motorcycle riders, these padded shorts are the real deal and protect your crotch, butt, thighs, hip, and tailbone. Elastic and breathable for a comfortable fit.
Shred Soles Skateboarding Insoles
These insoles designed for skating come with a foam layer to provide long lasting support and comfort specifically for skateboarding. Soft to keep an enhanced board feel, but it instantly dissipates force on impact. Extra arch support for awkward landings and stability that help you keep control of your board.
Oscaurt Anti-Theft Travel Backpack
Although this backpackwon't provide any protection from falls or riding your electric skateboard, I added it because it's a great, stylish, and safe backpack to carry with you. Anti-theft technology and a secret pocket keeps your stuff safely stored away. Also comes with a USB charging port design so you can charge your phone while traveling.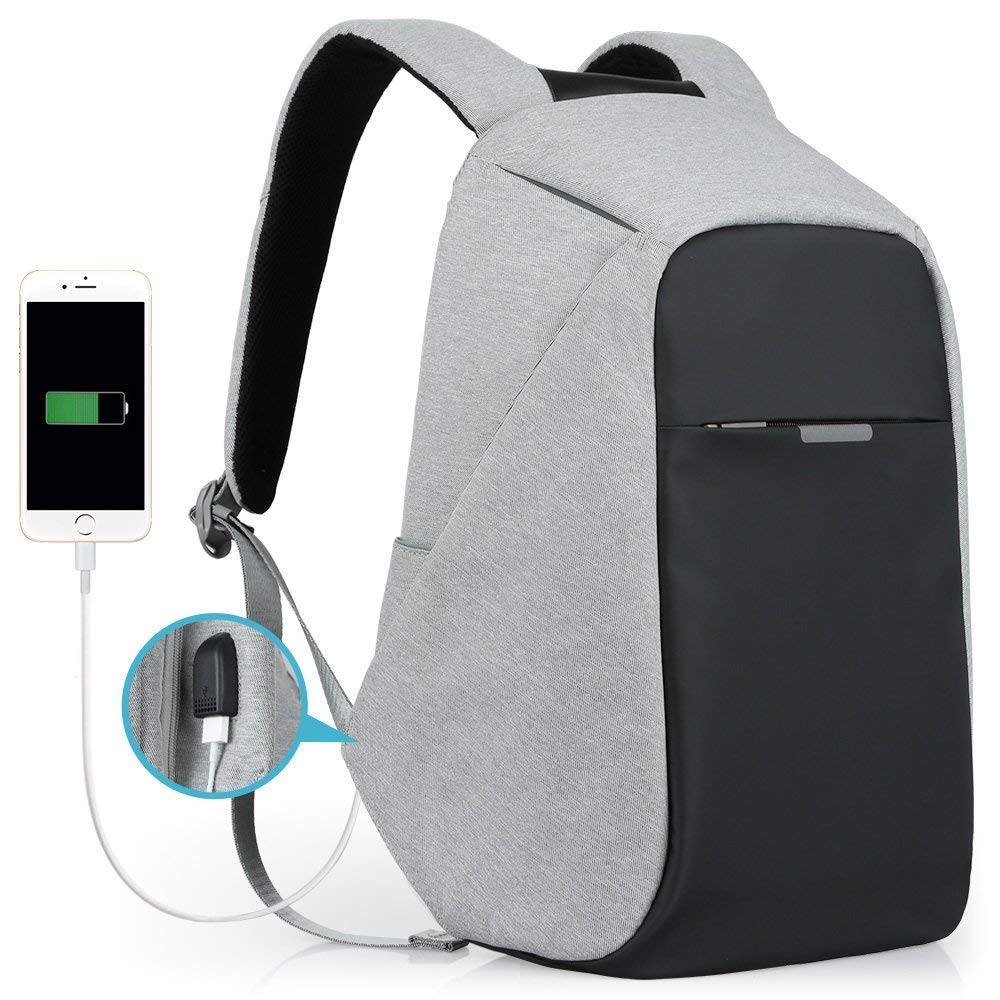 Flatland3d E-skate Gloves
Fingerless gloves that let you control and use your smartphone and electric skateboard remote. Flatland designed the gloves to help replace bulky wrist guards so you can still have a good control on your remote.
Firelion Shock Absorbing Gloves
Wrist guards don't do enough to protect your palms and hands from landing on the pavement. These shock absorbing gloves have absorbent microfiber and gel to give your hands the best protection. You can even use your electronic device while wearing these gloves through the touchscreen recognition.
Lights
Shred Skateboard Headlights and Tail lights
The safest way to ride at night is to have added lights and reflectors. Shred skateboard lights add additional security when you're riding your electric skateboard at night. Water resistant, with three different brightness levels, and easy to attach, you'll love the additions. The purchase comes with mounts to help you easily install on your board, which can be easily detached as well.
If you want to purchase just the headlights or just the tail lights, I'll place the links for those below.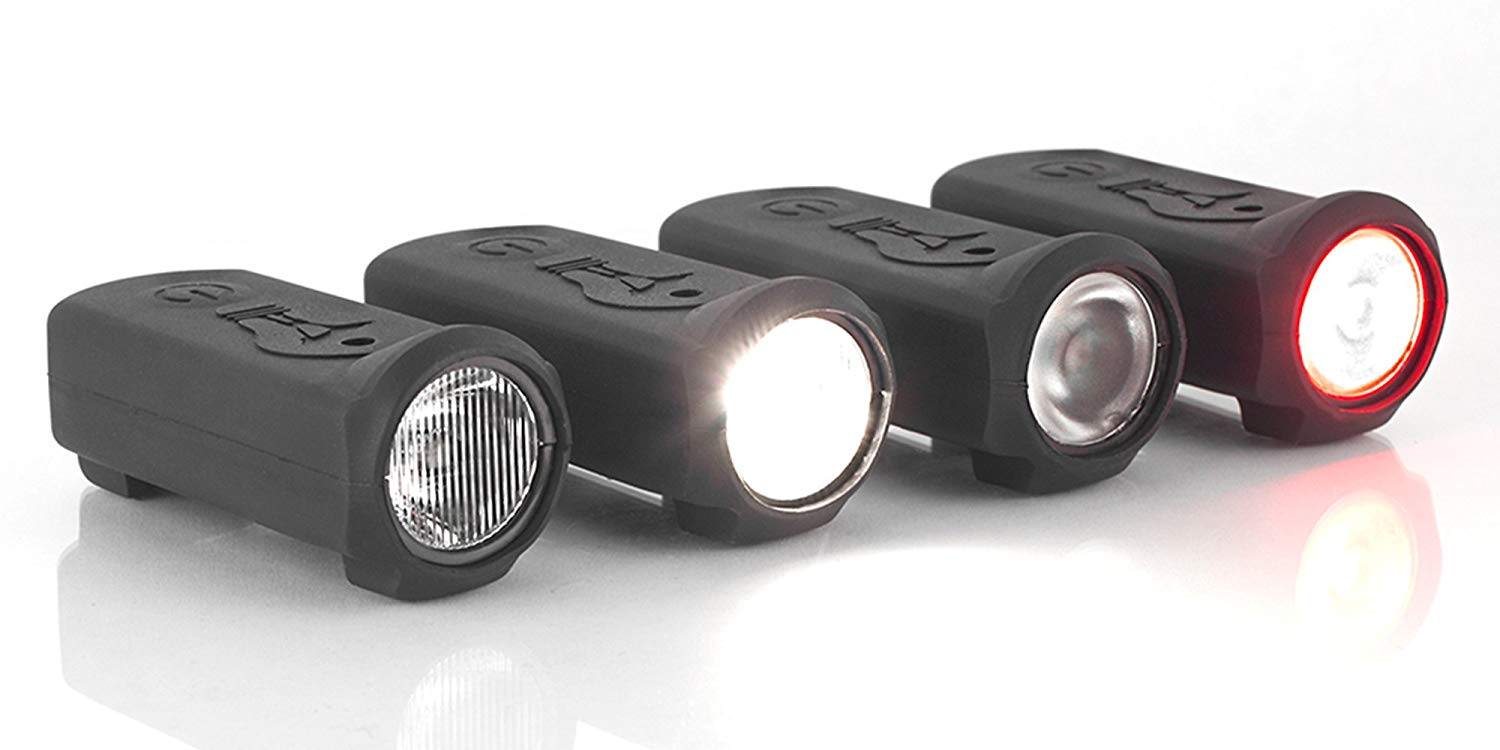 6 Pack Velcro LED lights
Velcro attachable LED lights that increase your visibility to other people and traffic on the road at night. Not too mention they add a cool extreterrestrial look to your board that makes you look like your gliding on a spaceship.
Board Blazers Underglow Lights 
One of the best ways to light up your board is Board Blazers Skateboard Underglow Lights. These lights attach underneath your board giving it an underglow effect and illuminating the entire board. Small, easy to install, and water resistant, they are perfect for any aspiring night skater. For an electric skateboard, it's typically recommended to get 2 sets for adequate coverage due to the size of the board.
Board Blazers Skateboard Tail Light 
If you're worried about cars at night, this rear tail light is perfect. With 2 colors and 5 different modes, this skateboard light is perfect for any electric skateboard. It quickly wraps around the trucks allowing it to be easily placed on and removed. It's also water resistant, so you don't have to worry about riding over any puddles. For a less expensive option than other sets on the market, it's hard to go wrong with this Board Blazers Skateboard light.
Bones Bearings (8 Pack)
If you ever need new bearings for you board, look no further than these Bones bearings. There the best selling bearing brand for a reason. Single, non-contact, removable rubber shield for easy cleaning and less friction; high speed nylon ball retainer for greater strength and speed.
Includes set of eight bearings, instructions, and logo sticker

Includes 4 spacers, 8 washers, AND Speed Cream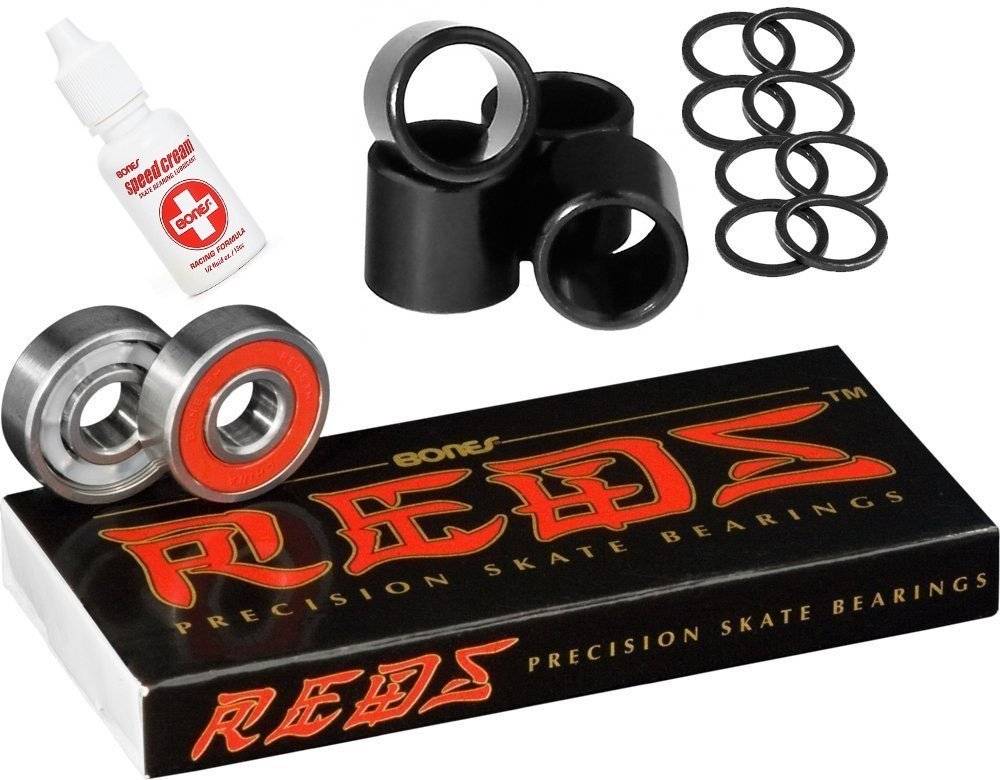 MaxFind Skateboard Parts Package
We already sell MaxFind Electric Skateboards on our website. But these trunks, bearings, and wheels designed by MaxFind will fit many different electric skateboards if your ever need of repair.
XCSOURCE Electric Skateboard Kit - Pulleys And Motor + Belt + Bracket + Screw Tool Set
DIY electric skateboard repair kit that comes with a pulley and motor mount kit for 80mm wheels. Full package includes:
1 x Pulley For Motor

1 x Pulley For Wheel

1 x Bracket

1 x Belt

3 x Screwdrivers

6 x Bolt

6 x Pad

16 x Screws
Zeato All In One Skate Tool
Most electric skateboards come with a multi-functional t-tool to help you adjust the wheels, trunks, axles nuts, and other hardware of your board. But if you ever happen to lose yours purchase this Zeato T-Tool as a replacement. Includes 3 different sizes of sockets and a slide-out Phillips head wrench screwdriver that fits into the top of the handle when not in use
Slick Revolution All Terrain Wheels
Turn your regular old street electric skateboard into a beast that can run around almost any terrain! Slick Revolution has provided another great set of wheels. Measuring a massive 110mm so you can cruise over any dirt, gravel, and rough terrain you choose. Throw these on your board and take them on an adventure! They're asking for it!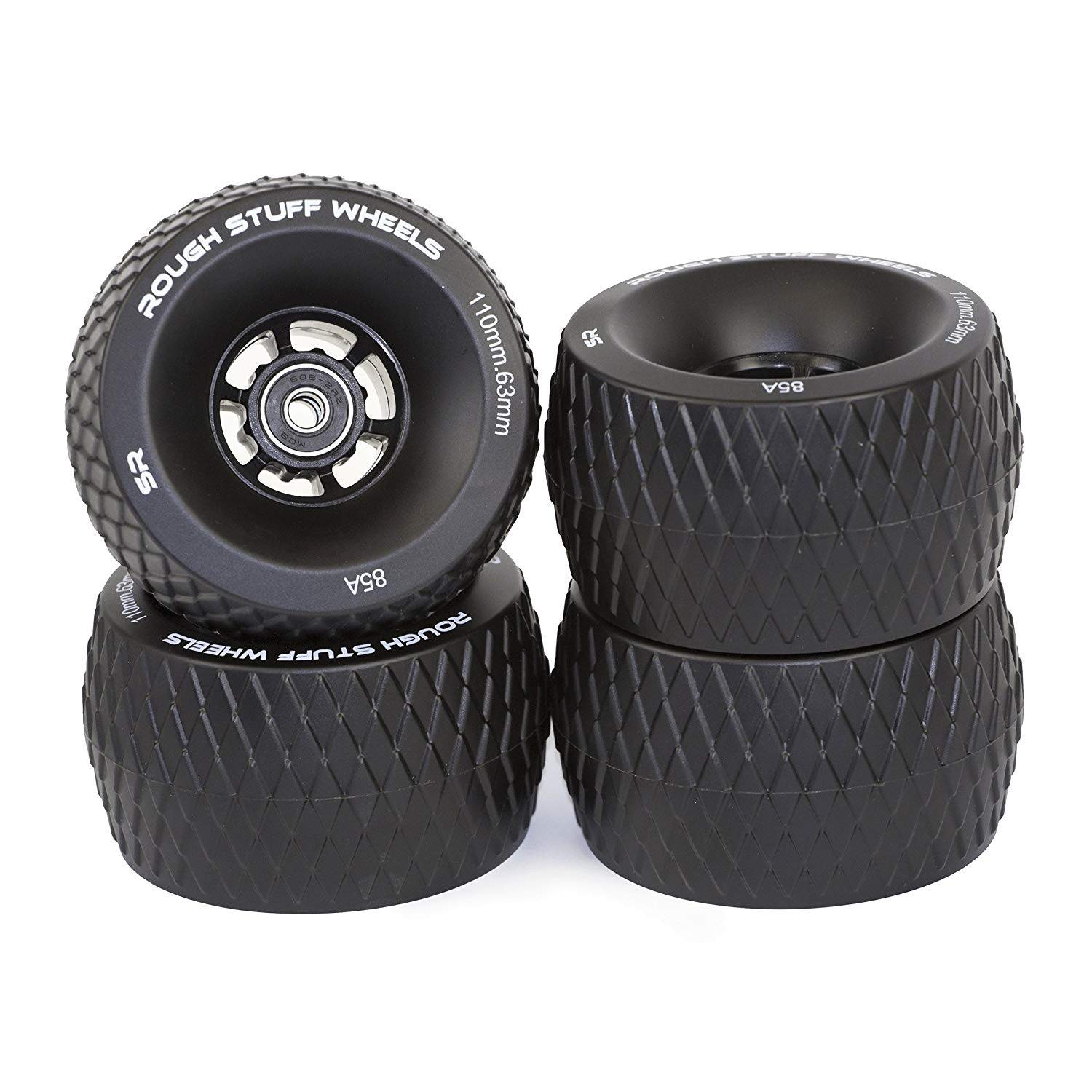 Orangatang Caguama 85mm Longboard Cruising Wheels
These beautiful wheels are designed for maximum speed, comfort, and momentum for longboard commuting, carving, long-distance pushing, pumping, and electric longboards. Large 85mm diameter, the Caguama rolls with incredible speed and plows the roughest roads.
The 56mm contact patch with its surface skin provides confident grip, while the subtly rounded edges help the wheels pass smoothly across pavement cracks. Comes in three different colors: orange, blue, purple. Compatible with any electric skateboard that can accommodate Orangatang Kegels, allowing for an even faster and smoother ride.
Electric Screwdriver
An electric screwdriver is a great complimentary tool to have in case you ever need some extra torque and quick tightening. Loose screws can be a pain to get on right, but with your TackLife electric screwdriver you'll have no problem.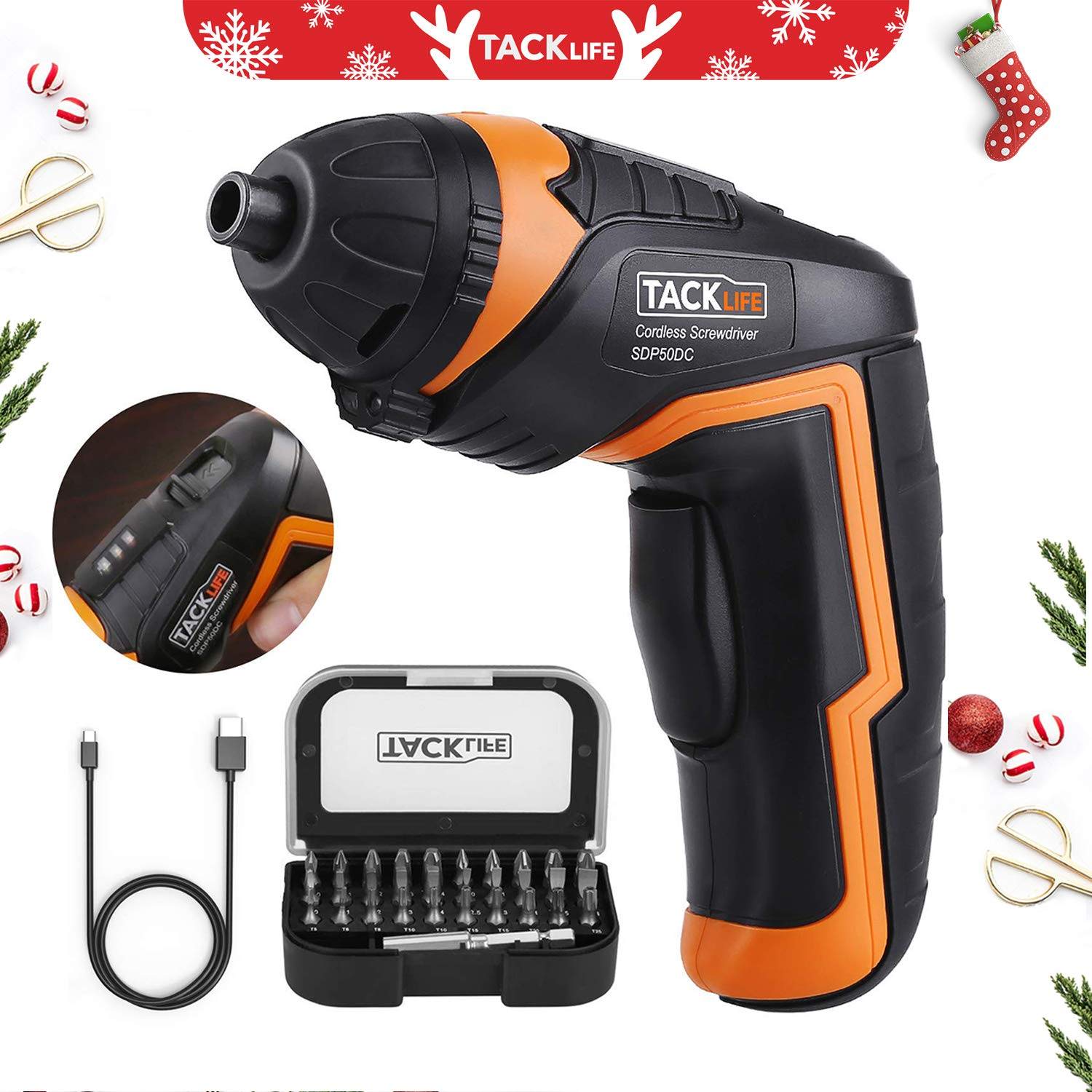 SkateKnife All in One Pocket Knife Tool
A great all in one skate tool that you need to carry at all times when you ride. Can be used to tune up, tighten up or repair all sorts of skateboards and longboards. Made from heavy duty steel. Includes a Phillips Head Screwdriver, Allen Wrench, Kingpin Wrench, Wheel Nut Socket Wrench, Grip Tape Blade, Mounting Hardware Wrench. Small lightweight and can easily fit in your pocket if anything ever goes wrong.
YYST Skateboard Wall Hanger
Instead of just throwing your electric skateboard on the ground and not knowing where to store it, buy this skateboard wall hanger. It makes storing your board super easy and convenient. Simply screw it into the wall and hang your board by the trunks. No more tripping over your board!
Grip Tape Cleaner
One of the simplest ways to clean your electric skateboards griptape. Keep that griptape looking fresh with Black Diamond's Dirt Remover gummy cube. Use it to easily clean dust and dirt from you griptape. Removing dirt and debris means your griptape will last longer. Clean griptape not only looks better, but it also performs better and provides more traction for your board. Diamond Dirt Remover works instantly, no need to let it sit or wait! Clean your grip and hop on.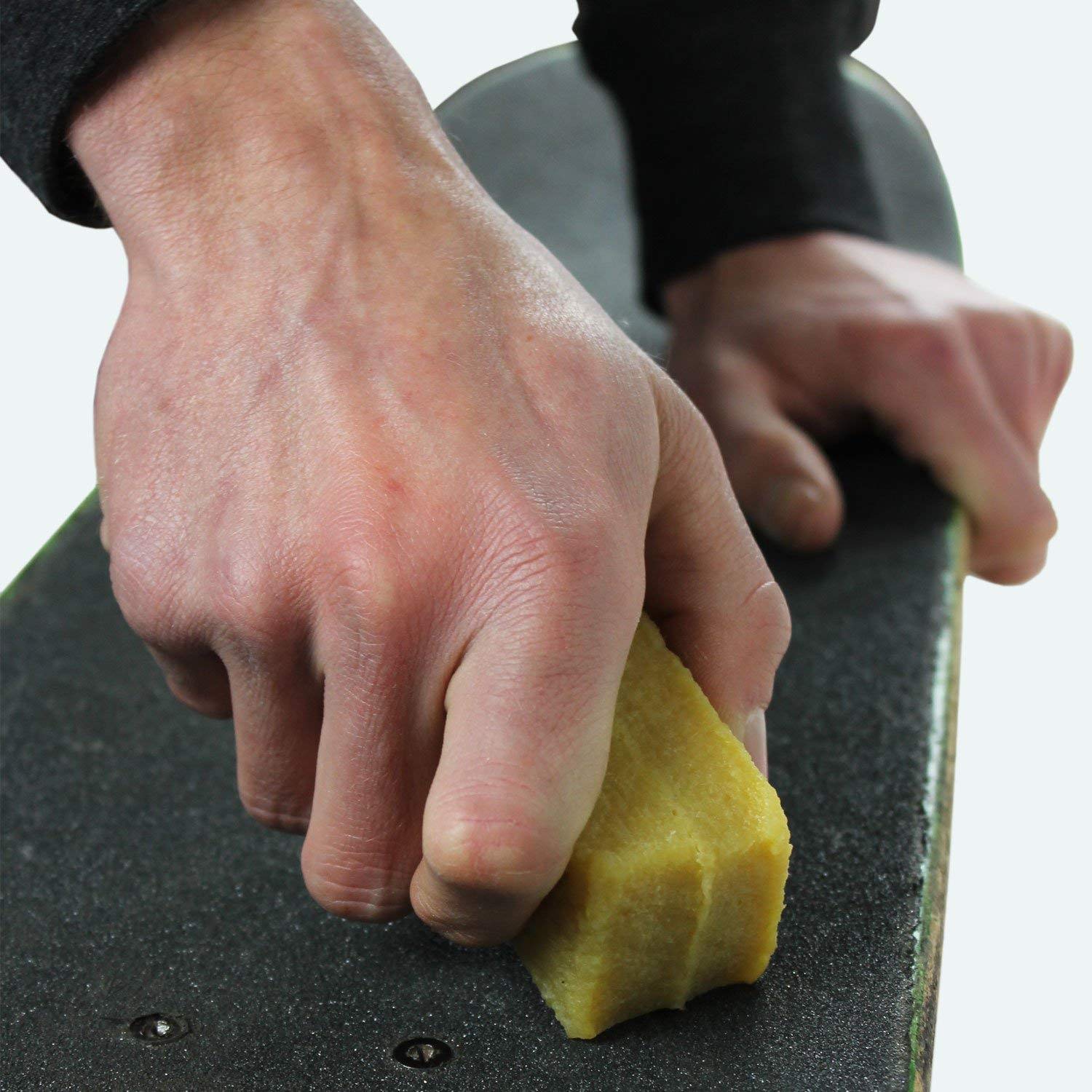 Boosted Replacement Belt Kit Repair
If your Boosted Board is in need of a replacement belt kit, look no further. Easily replace the belts on any Boosted Board with 4 OEM belts by Huck Boys. Eliminates lubrication and re-tensioning to reduce maintenance and labor required on drives. Fiberglass tensile cord provides high strength, excellent flex life, and high resistance to elongation. Neoprene body provides protection against grime, grease, oil, and moisture. 8 NYLOCK COATED BOLTS: Socket cap screws with 180° nylon blue pack to threads. Includes 3mm HEX WRENCH: Specifically designed length to reach your motor cap screws with ease. Also includes a 1/2" Wrench: Bent Wrench designed to fit perfectly into the hub of your wheels to give you maximum leverage to loosen and tighten your wheel.
Safety And Board Protection
Max-Pro Skateboard Deck Guards
Protect your electric skateboard from possible bumps and bruises. These skateboard deck guards are perfect to protect the front and back of your board from damages by impact. Easily install on the edge of the board body between the deck surface and deck back. Holding on your deck firmly. Just push on the rubber seal above the install place in 3 steps.The deck guards are waterproof, corrosion resistance, high temperature resistance, wear resistance, and made from anti-aging rubber.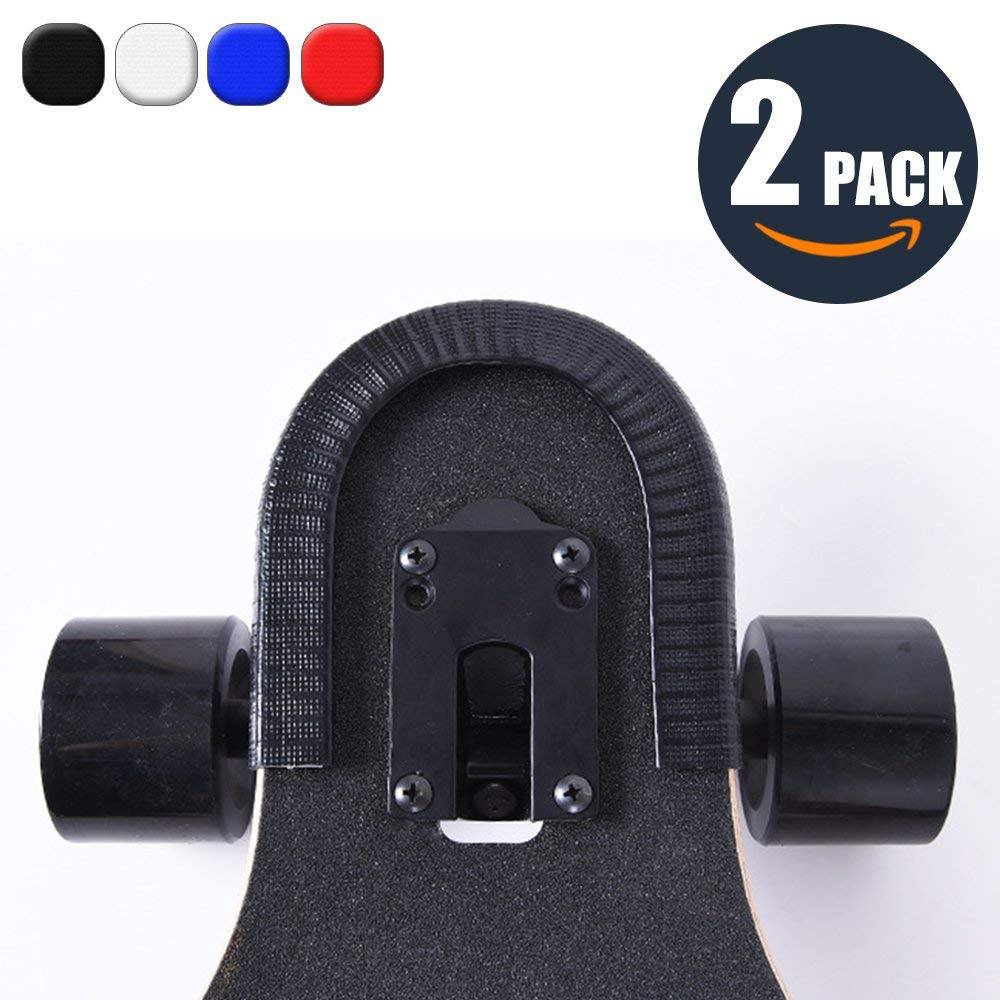 Skate Kastle Aluminum Boosted Board Bash Guard Set
Another set of bash guards specifically designed to protect your Boosted board. Machined from aluminum for toughness, then powder-coated for durability. These stainless steel cable clamps are rubber lined to be durable and protect your board from impact damage. These bash guards won't need replacing, since they are made from metal. Stop replacing your worn out rubber guards and buy this instead!
Swiss Safet 2-In-1 First Aid Kit
Whenever your riding, you should always carry a first aid kit with you. If you or a friend falls, damage could be painful and severe, so it's always good to have a backup plan instead. The kit is FDA approved and includes 120 medical items in case of an emergency. There is no shortage of stuff in this tiny first aid bag. Carry it whenever you ride.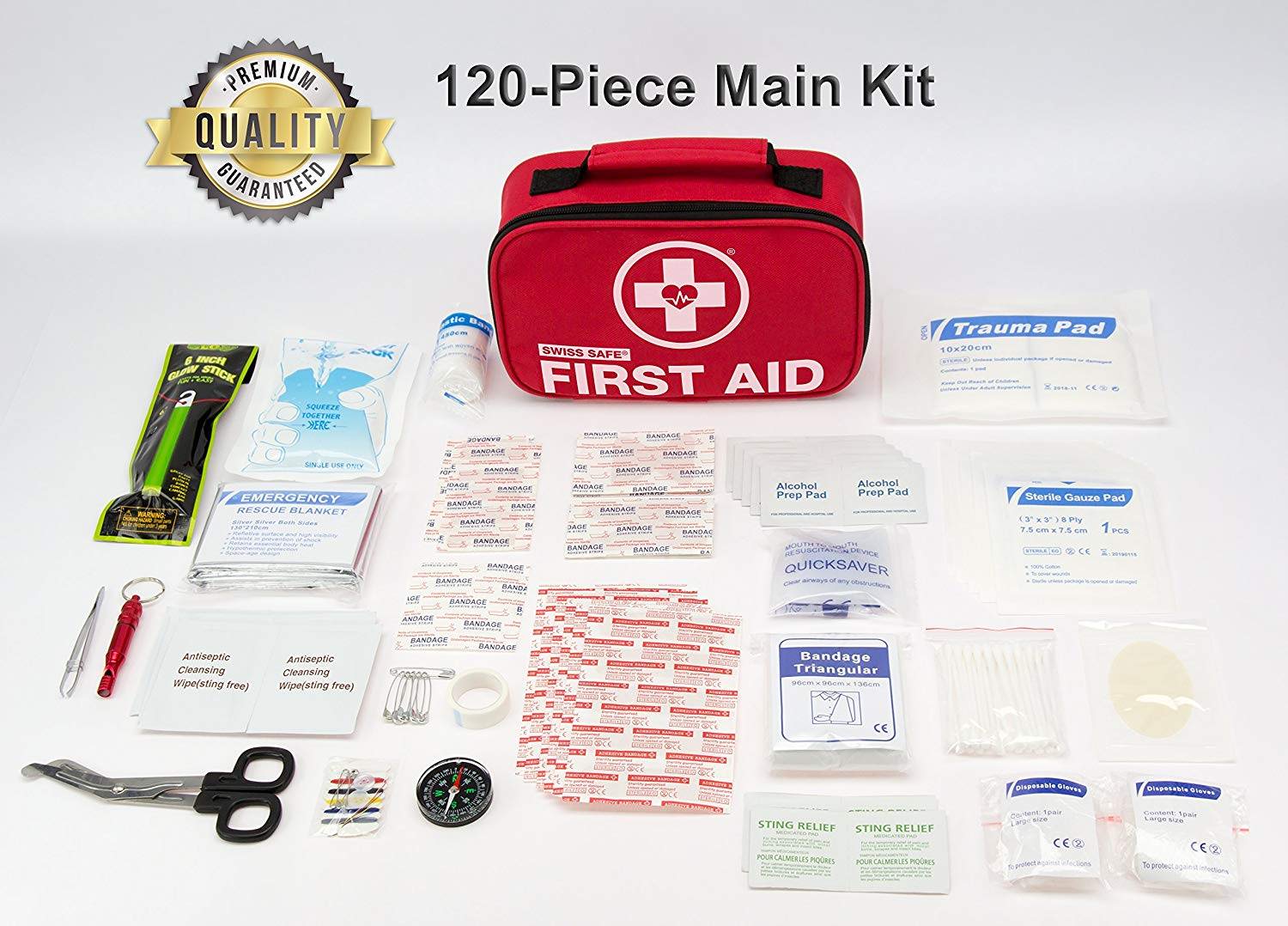 I-GO Pocket First Aid Kit
If the first aid kit is too large for you I suggest this I-GO Compact one. Very tiny but still holds 85 medical items for you in case of an emergency. Throw it in your pocket, bag, or attach it to your keychain. This little device provides added protection for your e-skaters.
Tile Replacement Finders
One of my favorite devices that you can put on pretty much anything valuable to you, especially your expensive electric skateboard. Tile Finders use bluetooth tracking, place it on your electric skateboard so incase you lose it, tile will find it for you. Tile must be in Bluetooth range, but if your device is very far away you can activate community find, which allows other tile users to track and send a signal to let you know of your devices location. Attach it to anything of value.
Electric Skateboards
What's the best accessory to your electric skateboard? Another electric skateboard! I know these might not be known as accessories, but I recommend checking out some of these boards in case your are not satisfied with your own.
Boosted Mini X
Boosted in a nice packaged size. The Mini X has a top speed of 20mph and a solid 14 mile range all in a 29 inch frame. Get everything you want from the Boosted Plus, but in a smaller and cheaper version.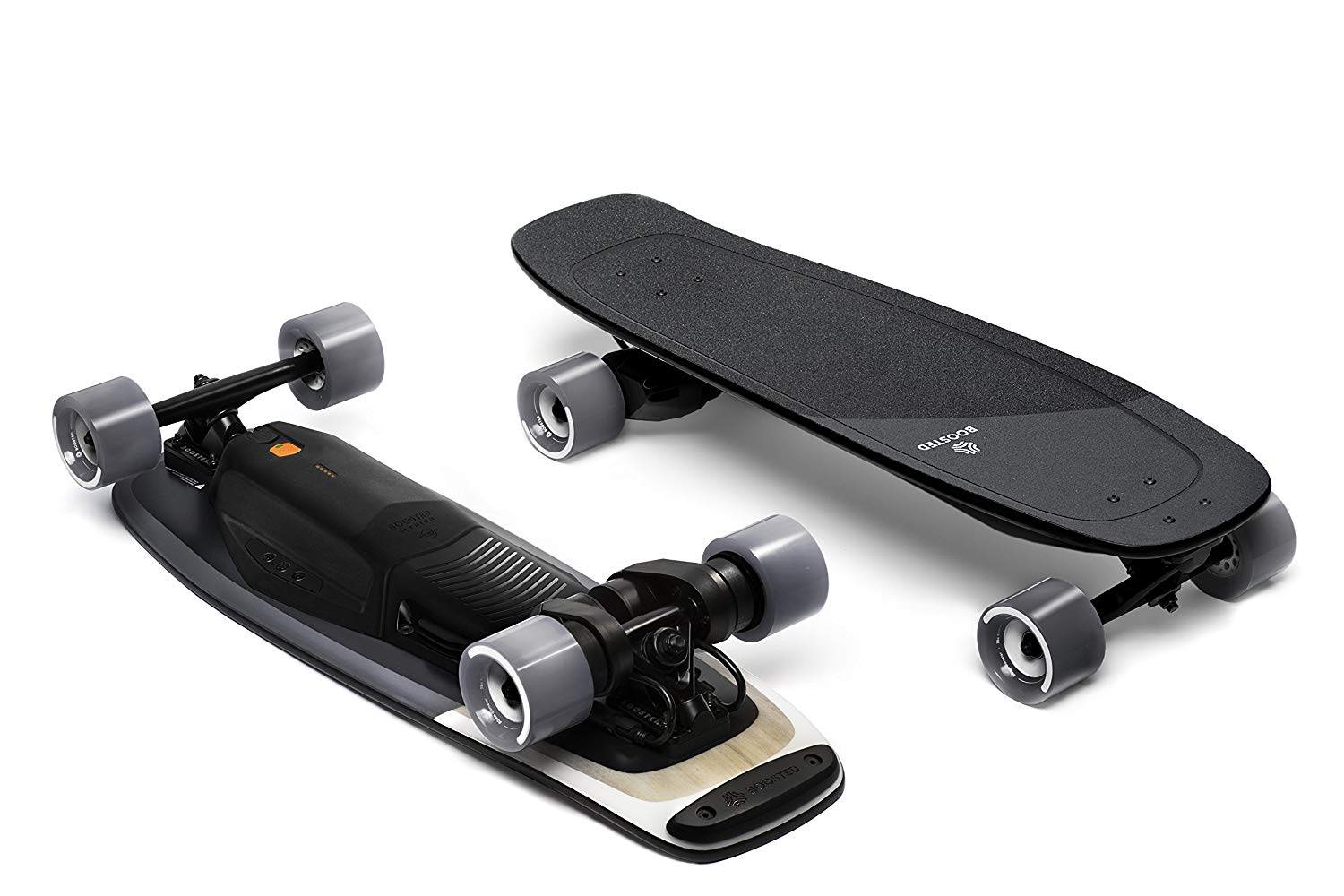 Boosted Stealth
By far the best Boosted board out there. A top speed of 24 mph and an extended range battery that provides a 14 mile range. Sexy design and look, partnered with amazing performance. Get the Boosted Stealth and you'll never look back.
Carbon GT
Evolve is one of the top electric skateboard brands out there right now along with Boosted. Although pricey, their boards have insane performance, quality, and design. The Carbon GT has 26 mph top speed and an out of this world 31 mile range. Hell, this thing might replace your car!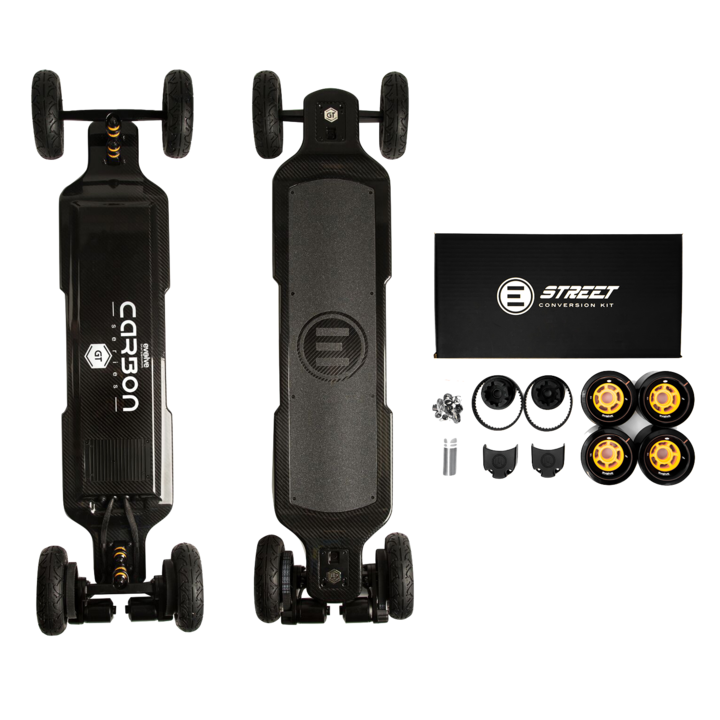 WOWGO 2S
Chinese brands aren't as popular, but they're still pretty kick ass. A cheap price with great performance, the WOWGO 2S is perfect for you if you want to pinch your pennies. Top speed of 23 mph and a 10 mile range is pretty good performance. Not too mention it comes with a handle.