It's no secret, electric skateboards are expensive.
I've spend thousands of dollars on boards myself. But before you run off into the woods crying about how much you'll have to save up, there is a slight glimpse of hope for those of us that are broke.
What Price Is Considered A Cheap/Budget Electric Skateboard?
The average e-board cost ranges from around $600-$1,500 (although many premium boards can run you over $2,000)
Purchasing anything under $500 can be considered budgeting.
So if you want to save your money, try finding something in the $375-$550 range.
Are Lower Priced Boards Worse In Performance And Quality?
Many associate the word 'cheap' with low price and poor quality. And there is some truth to that.
I was recently in the market for a new laptop. I purchased a $200 Chromebook and had to return it because the overall quality and performance was terrible. I later went to Best Buy and picked up a $650 Dell Inspiron which I fell in love with right away. The difference in speed, hardware, display, and power was really astonishing... 
Reality is, if you don't pay the price, then you won't get the quality and performance you deserve.
Have you ever heard the term "cheap is more expensive?" That's because cheaply made parts, materials, and products break quite easily and end up failing on you at a much quicker rate, costing you (and your wallet) more in the long run.
But I've found some diamonds in the rough. Low cost electric skateboards that are well designed and compare in performance/quality to premium brands.
I've found these cheaper boards to cost as low as $400-$500. Scroll down to find out which boards I'm talking about!
But heed my warning about purchasing an electric skateboard and spending as little money as humanly possible…
There are quite a few super cheap unbranded boards (many of which you will find on Amazon) in the $100-$200 range, that are just terrible quality. It's not feasible to purchase a board at such a low cost and expect great things.
Buying the cheapest electric skateboard on Amazon will be a complete waste of your money, time, and having you asking "why did I even get this thing in the first place?" 
Don't believe me? Check out my article here on the worst electric skateboard I've ever purchased.
What Are Some Cheaper Brands I Can Choose From?
Before going over the exact boards you should pick, here are some brands that generally offer lower-priced boards that still offer great results.
Many of these brands will appear on the list below.
•Ownboard
•Meepo
•WowGo
•Backfire
•Blitzart
•Maxfind
If you notice anything about these brands, it's that most if not all are Chinese based. Many operate and ship out of mainland China which is why they can offer at much lower prices.
Where Can You Buy Premium Boards For Cheap?
If you're still convinced on getting a premium brand/board for whatever reason and you wish to buy it for a lower cost, here's a couple things you can do. Use these hacks wisely:
1. Search eBay – A great marketplace to find used and new products, I have found brands like Boosted and Evolve sell for a few hundred dollars below there normal price (brand new too!).
2. Buy Used – Buying used means that the board will have to come cheaper. As long as it doesn't have too much wear and tear, it's truly a great investment.
3. Phone A Friend – Friends are great assets when it comes to pretty much anything. If you have a friend who is willing to sell you a used board, it's more than likely they'll give you a friendly discount.
4. Use Reddit – This Reddit thread here is based entirely on buying and selling electric skateboards. And you can get some pretty good deals if you negotiate wisely! Just make sure you have a Reddit account and check often. Don't be afraid to PM someone and ask for a lower price!
12 Best Budget E-Boards You Can Buy!
Now for the moment you've been waiting for. These boards aren't just going to save you money, but I guarantee you'll enjoy them as well.
Remember, quality doesn't necessarily have to suffer because of price!
Ownboard W1S
Retail Price: $379
I've been a fan of Ownboard since the very beginning and I have nothing but amazing things to say about their boards, especially the W1S.
A longboard style deck that comes with a carrying handle, $379 is such a steal for such an incredibly performing board.
•Top Speed: 25 mph
•Range: 12 miles (can be upgraded)
•Incline Rate: 30%
12 mile standard range is certainly reasonable, but if you need more you can simply upgrade the battery to a Samsung 6.0 AH for 14 miles ($419), or a Samsung 8.0 AH for 19 miles ($549).
The deck is 38 inches, flexible, and designed with a longboard style which vastly improves the handles over stiff deck/style counterparts.
The remote and throttle are smooth and allows for great acceleration, starting, and stopping.
Upon opening up on arrival, I could tell this thing wasn't some junky piece of equipment, it's really well made.
Again… for a base model of less than $400, I'm sure you could find this money lying around somewhere.
Ownboard Mini KT
Retail Price: $379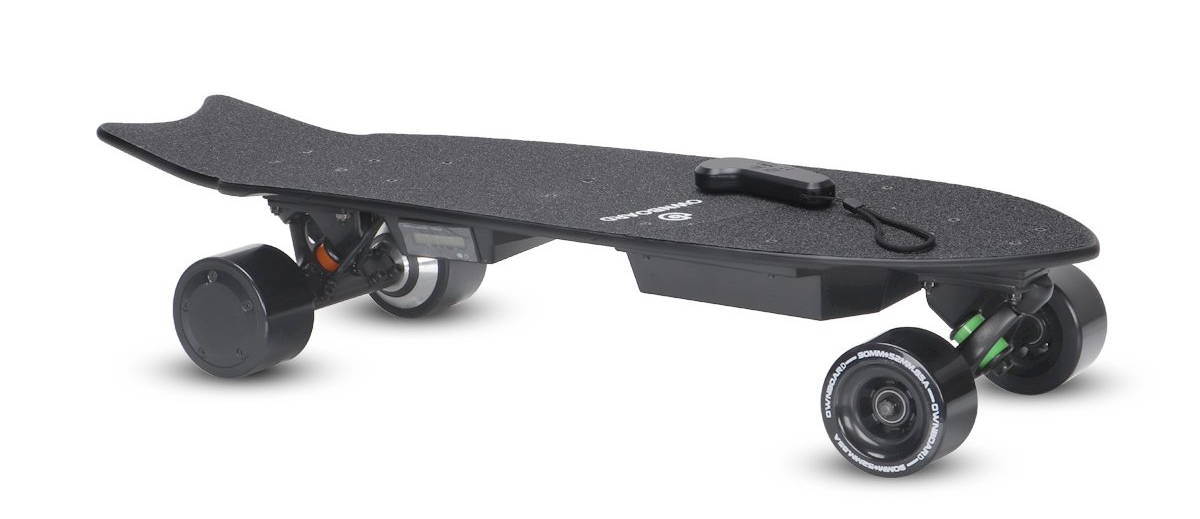 What's great about Ownboard is a good portion of their boards retail for the same price of $379. The Mini KT is no different!
The Mini KT also offers the same performance features as the W1S:
•Top Speed: 25 mph
•Range: 12 miles (can be upgraded)
•Incline Rate: 30%
The Mini KT is a 30 inch deck, making it out to be smaller, lighter weight, and more portable than those other bulky and heavy boards you see many riding nowadays.
It weighs just under 17 pounds which is fairly considerate!
Although smaller and lighter, it still comes with tremendous power which you will definitely notice while climbing uphill.
I have a massive 30 degree incline on my street. But the Mini KT makes the hill its bitch… No seriously, it just rolls right up the damn thing.
I'm not the biggest fan of its stiff deck, but that's just a matter of preference. This board is great (and cheap)!
Backfire G2
Retail Price: $409
I found out about the Backfire a little while ago due to all the hype I was reading about it on Reddit.
•Top Speed: 24 mph
•Range: 12.5 miles
•Incline Rate: 20%
They offer a wide range of both cheap and pricey boards but after trying the G2 for the first time I knew it had to be listed in this article!
Although it's listed as a beginner board, it's still pretty powerful and I have nothing but praise. The deck is fairly flexible and the range does well (I got about 11.5 miles on a charge).
The power is certainly there even though Backfire only claimed it could do 20% hill climbing. I found it could do even the bigger hills!
As the video states above, this board isn't just for beginners!
Meepo V3
Retail Price: $379
Meepo is very similar to the likes of brands like Ownboard and WowGo, in fact, the boards are all so similar that I wouldn't be surprised they all don't get manufactured in the same factory!
The V3 is Meepo's low cost and longboard. But make no mistake this thing is a beast.
•Top Speed: 28 mph
•Range: 11 miles (can be upgraded to 20 miles)
•Incline Rate: 30%
Just take a look at that top speed… 28 mph, that's unreal!
Meepo truly has unrivaled acceleration and speed it's actually pretty scary.
A year ago, I met up with a group of e-skaters and there was some guy who boasted about his Meepo and it's speed. Although it wasn't the V3, he wasn't joking when he said this thing was a scorcher! I swear he could keep up with most of the cars on the road!
Besides incredible speed, the V3 comes with an 11 mile range that can be upgraded to a 20 mile extended range (ER) for a total retail price of $579.
For all it's accolades and specs it's by far the most popular Meepo board we recommend you choose from.
Meepo Mini 2
Retail Price: $379
If you're not into those longboard decks and looking for a smaller more portable deck you also have the option of the Meepo Mini 2 which retails for the same price as the V3.
A 20 inch deck that boasts the same specs as the V3 it's a great backup option.
•Top Speed: 29 mph
•Range: 11 miles (can be upgraded to 20 miles)
•Incline Rate: 30%
However since the deck is quite smaller and stiffer, it's a big risk going to fast on this thing. Hitting a rock at 29 mph will send you flying into the pavement and create a world of pain.
Regardless, nothing bad to say about Meepo. A worthy option for any e-skaters looking to save money.
WowGo Mini
Retail Price: $379
The smallest board on the list, it's only 28 inches long.
It's so tiny you think this thing is made specifically for little kids. But this minuscule board which only weighs 15 pounds has a maximum weight capacity of 330 pounds, meaning even the heaviest of humans and adults can ride it!
This board can literally carry and hold something 22 times its own weight, making it pound for pound the strongest board on this list. If humans were as strong as this board, the average man could lift around 4,000 pounds!
Not bad!
•Top Speed: 23 mph
•Range: 12 miles (Can be upgraded)
•Incline Rate: 30%
The 12 mile range has two upgrade options which will increase the range up to 14 miles and 19 miles depending on how much money you're willing to spend.
Wowgo, another Chinese brand offers 6 different e-boards on their site, four of which are $500 or less. Again, super cheap and great quality boards.
Although the Mini is great if you're going to choose a WowGo board, go with the next one on the list.
WowGo 3
Retail Price: $499
Right on the cusp of what many would consider a 'cheap electric skateboard' we have the WowGo 3, another 38 inch deck.
I was tempted to select the WowGo 2S at this position but it's pretty much the exact same thing as the Mini, just in longboard form
The model 3 is superior in terms of power and you notice it during a ride test between other models. This is thanks to the model 3's turbo mode which allows for 55% more power and torque.
It's pricier than many of the other boards on this list but it's not a slacker by any means.
•Top Speed: 24 mph
•Range: 14 miles (can be upgraded to 20 miles)
•Incline Rate: 30%
Blitzart Huracane
Retail Price: $289
I first found out about Blitzart because they were one of the few boards for sale on Amazon. While I sometimes question their quality, the Hurracane still deserves a spot in the top 12 cheapest boards.
First of all, the boards cheap… really cheap!
$289 retail price seems too good to be true and you shouldn't be willing to go any lower. Anything less is truly going to be bad quality
•Top Speed: 17 mph
•Range: 8 miles
•Incline Rate: 15%
It doesn't have the best performance specs, but that's because it's better suited for children although adults can certainly ride it no problem.
But considering it's less than $300, it's actually pretty damn good. 17 mph is actually the average speed I travel around on all of my other boards! The range could be a tiny bit better and does better on a flat surface, but I'll take it!
This board also ships from the U.S.A. meaning much faster shipping and better service than some of those Chinese companies.
Acton Blink S-R
Retail Price: $399
Similar to the Bltzart but with an additional $110 price tag.
I prefer Acton's two other models (Bling S-2 and Blink Quatro) much better for obvious reasons, but this board still makes the list.
•Top Speed: 16 mph
•Range: 7 miles
•Incline Rate: 15%
If you're on the heavier side of the scale, it's best you don't purchase the board, as it's max capacity is 220 pounds.
However for lighter riders, it's a great board! I actually had my friend do a test ride as I'm on the heavier side and he really enjoyed it.
Maxfind Max 2
Retail Price: $449
The world's first and only diamond cut board, Maxfind was one of the original boards I found out about when I got into electric skateboarding.
The company is Chinese but comes with great service and support, and unlike other Chinese companies, they actually ship with speed (3-5 day delivery)!
•Top Speed: 20 mph
•Range: 15 miles
•Incline Rate: 25%
What might be coolest about the Max 2 isn't it's specs, but actually its look. The company claims the design was inspired by Cadillac cars and their sharp cutting design. The underside of the board uses carbon fiber printing and beautifully designed triangular patterns.
In a way this board does look like a sports car.
The battery is also a good improvement over the competition, as it only takes 2 hours to full recharge. And unlike other e-boards, this one actually comes with an IP65 dust and waterproof rating meaning it can take a few splashes of water and keep on rolling!
Skatebolt Tornado II
Retail Price: $519
Skatebolt was a much more popular brand 3-4 years ago. As of late, they've fallen behind the competition in terms of popularity.
However, the Tornado II is still a fantastic board whether you look to admit it or not!
•Top Speed: 25 mph
•Range: 22 miles
•Incline Rate: 25%
A 22 mile range? Are you kidding me!?
That's insanely good! The board also comes with a hi-tech LCD screen remote that shows features like speed mode, battery capacity, and more.
For added safety, the board also comes equipped with a pair of taillights in the rear, helping increase your visibility to others behind you. However, this begs to ask the question, why the hell didn't they add front headlights???
Although the Tornado II is certainly a worthy board, I have heard a fair share of complaints about the Skatebolt company itself. First off, the website is not easy to find (It's skatebolt.com for those wondering). Second, you can forget any customer service or support help. I've had individuals tell me it's impossible to contact anyone after having issues with their board.
So if you need help shopping for repairs or parts on your current Skatebolt, you're on your own.
Swagtron Swagskate NG2
Retail Price: $399
A popular and underrated brand, Swagtron sells more than electric skateboards (ie, electric scooters, hoverboards, and electric bikes).
But here, we're focusing on their 900-watt NG2 model.
•Top Speed: 18 mph
•Range: 11 miles
•Incline Rate: 15%
The specs seem aren't too shabby, but the weight capacity is 220 lbs, so if you're on the heavier side the performance like speed and range certainly won't be up to par.
What I love about this board that seems to be lacking in so many of the modern boards today is a cruise control. With the remote, just pick what speed you'd like to maintain and with the click of the button you cruise at such velocity.