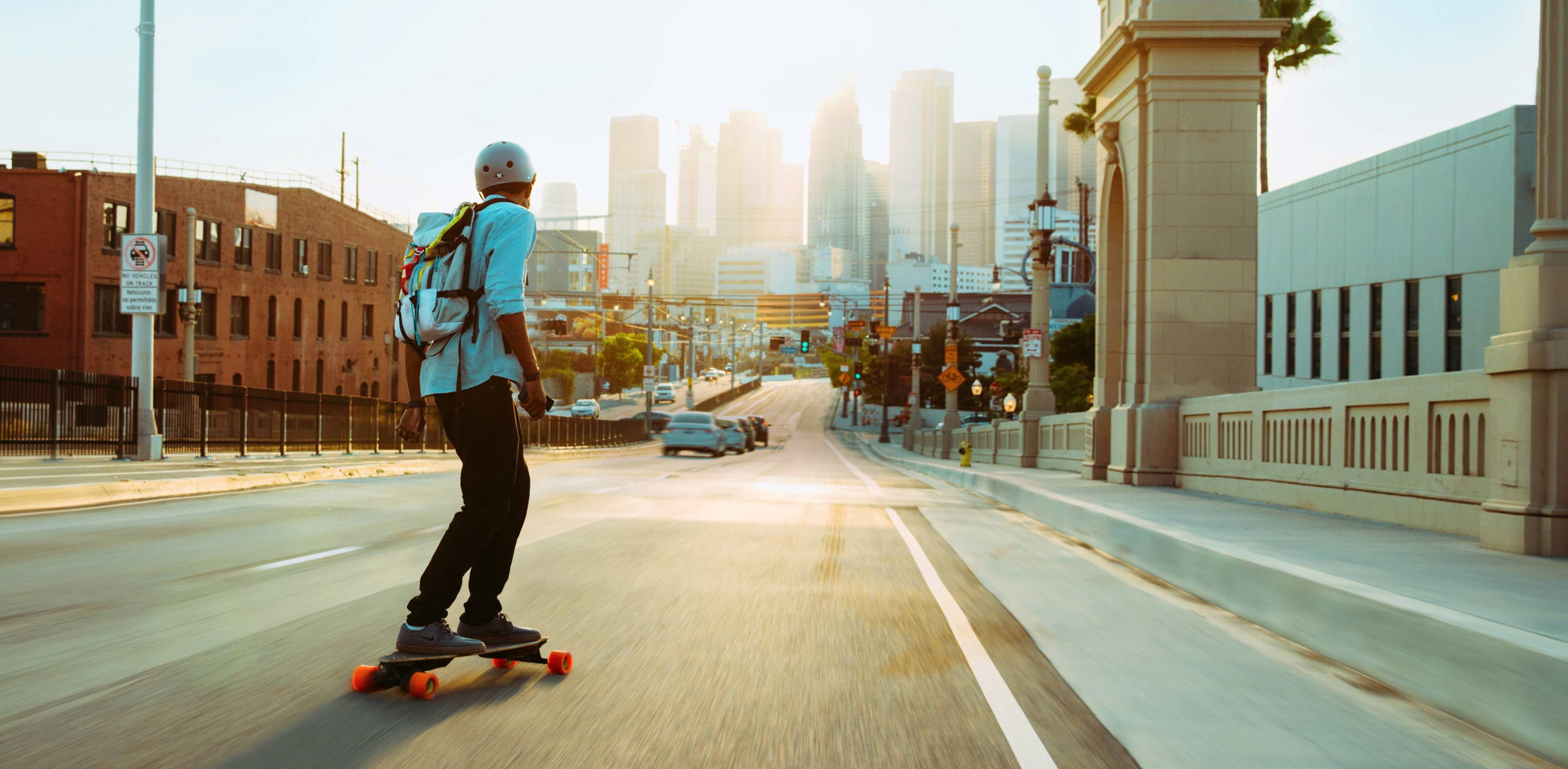 Even regular non-electric skateboard riders know who Boosted electric skateboards are. A company that is widely known as the Tesla, Apple, or Amazon of electric skateboards for their brand recognition, incredible performance, and quality of their electric skateboards.
At the current moment, Boosted sells 4 electric skateboards on their website. The Mini S, the Mini X, the Boosted Plus, and the Boosted Stealth. We'll be looking at and reviewing the boards based on the categories below.
Price

Speed

Range

Hill Climb

Weight

Size and Deck

Other Capabilities
Boosted Mini S/X
The Boosted Mini S is the the smallest, lightest, and newest of the Boosted boards. Riders love the Mini S for its size and price, since many of the other Boosted boards are over $1,000. If you're not opting for a longboard version of Boosted, or something that fits your budget a little better, this is the board for you.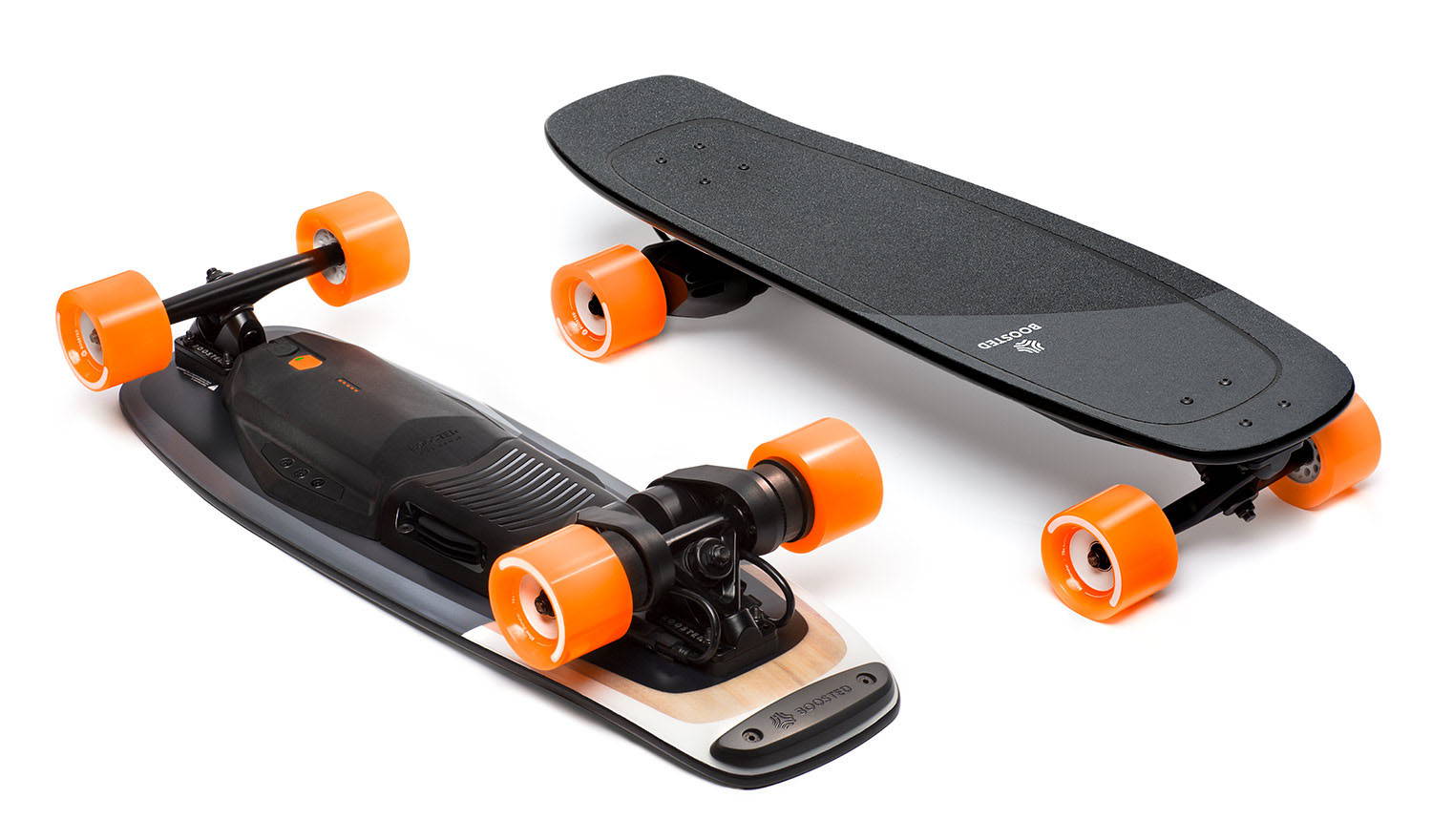 Price
Coming in at $749, the Boosted Mini S is a more reasonable price to the Boosted Plus at $1,399. A lot of people were complaining how Boosted boards were too expensive and didn't fit their budget. Boosted invested into making a board that has most of the capabilities of a longboard, while chopping off 18 inches and cutting the price in half.
The Mini S was born.
Although $749 is still not the cheapest price, it opened up the market for Boosted.
If you want even more capabilities than the Mini S you can purchase one of their electric longboards, or upgrade to it's brother the Boosted Mini X which is even faster, and has a longer range, and all for $999.
Speed
The Mini S clocks in with a top speed of 18 mph. Not bad but could be better knowing many cheaper boards have a greater top speed.
The Mini X upgrades the speed by a slim 2 mph, but that makes a big difference, bringing the top speed to 20 mph total.
Both boards are still relatively fast, 18 mph is fast enough for most people including myself. Anywhere above 20 mph starts to get uncomfortable and dangerous.
Range
The Mini S offer a 7 mile standard range, which once again isn't phenomenal knowing the capability of other boards out there easily exceeding 10 miles.
This is where the Mini X really separates itself and doubles the range of the Boosted Mini S all the way up to 14 miles!
If you commute to work and do a distance of 6 miles or more round trip, buy the Mini X. A 7 mile range is just not enough for most people who use an electric skateboard regularly.
Hill Climb
Both boards offer a hill climb rate of 20% which is solid. I found neither of the boards really lost speed or acceleration when hill climbing unless it was very steep.
If you ride in a hilly area your battery will drain much faster due to the increased power output of the board. Once again, this is where I require the Mini X.
Weight
The Mini S weighs in at 15 pounds and the Mini X tops out at about 17 pounds with the larger battery. Overall I barely noticed a weight difference when carrying the two. 17 pounds is not too heavy unless you are walking and carrying it over long distances.
Size and Deck
Other than the battery and weight, both the Mini S and Mini X are the same. The deck is 29.5 inches long and 11 inches wide.
The deck is deep dish composite and made of triaxial fiberglass, stiff and no flex. If you want flex you'll have to purchase a longboard.
Other Capabilities and Features
Regenerative Braking

IOS and Android App Support

Wireless Bluetooth Remote

1 Hour 15 Minute Charge Time (Mini S), 1 Hour 45 Minute Charge Time (Mini X)

3 Ride Modes

80 mm Boosted Lunar Wheels

Polymer Sidewalls for Protection Against Impact
Boosted Plus
Without a question the most popular Boosted board and the most sought after electric skateboard on the market. The experience of riding one of these is priceless, it offers amazing handles, and a super flex deck that make it extremely comfortable and easy to ride. Boosted only offers the 1st generation on their website, and have recently removed the 2nd Gen Dual+ from their website due to not being able to keep up with stock.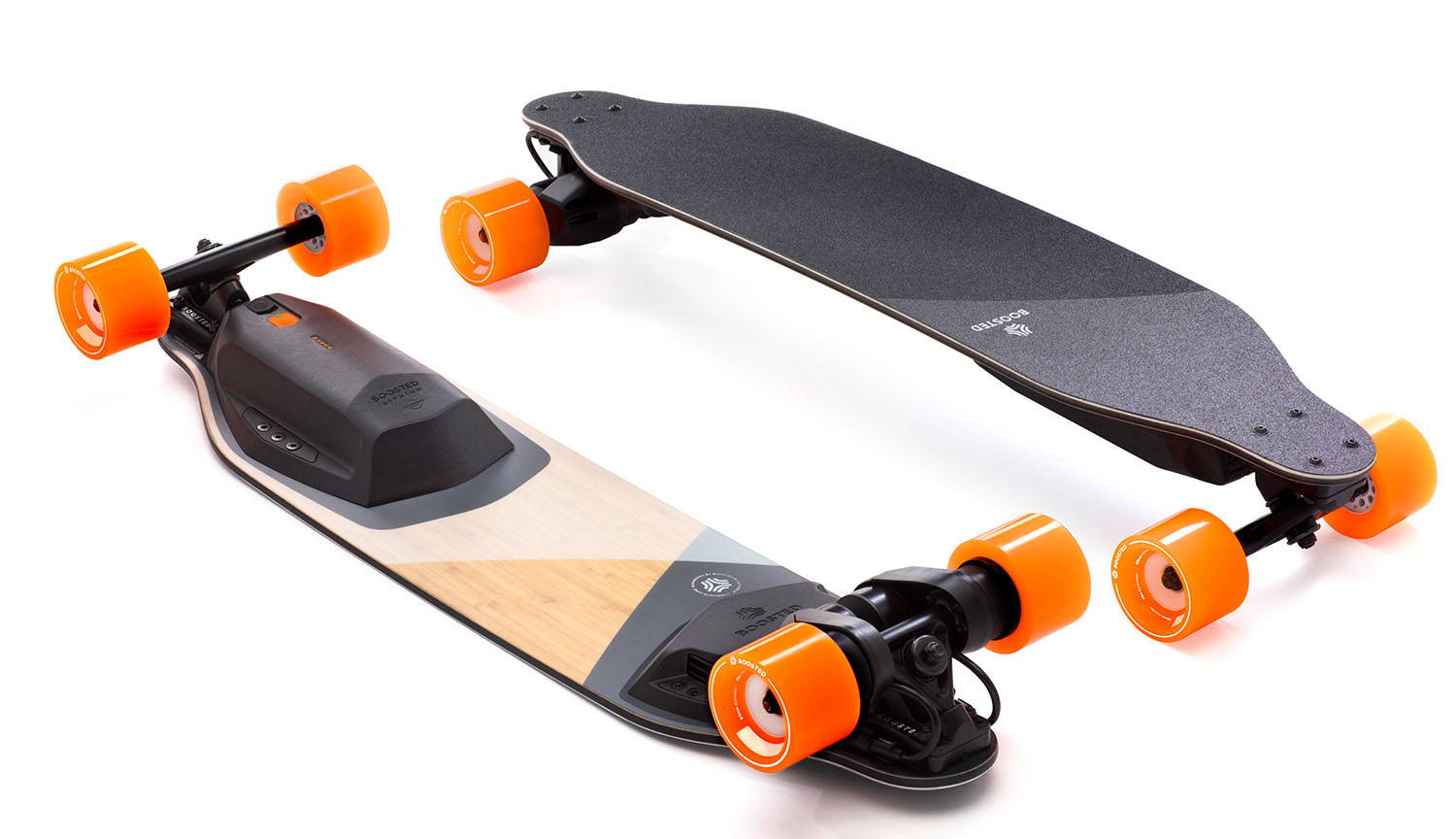 Price
A pricey $1,399 but very much worth it. Amazing quality electric longboard with incredible handles. Picking up one of these vs a regular non electric skateboard is like changing from a 2002 Honda Civic to the new 2019 Tesla Roadster.
Speed
A top speed of 22 mph and over 4 ride modes that allow you to adjust to the right speed. Turn any place into a high speed adventure.
Range
An impressive 14 mile range provided by Boosted's extended range battery so you should have no problem commuting to school, work, and then still have time to ride with your friends.
Hill Climb
A 25% incline rate offers an increase over the Boosted Mini. Make no mistake this board offers some serious power and climb up hills that make you feel your riding a really fast escalator.
Weight
The Boosted Plus comes in at a light 17 lbs, quite low for an electric longboard considering the length and larger battery.
Size and Deck
The Plus comes in at 38 inches long and 11 inches wide. Really comfortable feel for a longboard which allows you to have a wide stance. A super flex composite deck allows for excellent balance and handling abilities.
Other Capabilities and Features
Regenerative Braking

IOS and Android App Support

Wireless Bluetooth Remote

1 Hour 45 Minute Charge Time

4 Ride Modes

85 mm Boosted Stratus Wheels

Polymer Sidewalls for Protection Against Impact

2,000 Watt Motor

Stronger Trunks for Unparalleled Durability

Reinforced Top Sheet Fiberglass

Vibration Dampening Foam
Boosted Stealth
Last but not least, and the best electric skateboard Boosted has made to date… the Stealth. The Board that Boosted calls as "the pinnacle of performance," and rightfully so. Forget what I told you about the Boosted Plus, this electric longboard raises the bar even higher. For only a few hundred dollars more, you can really have it all.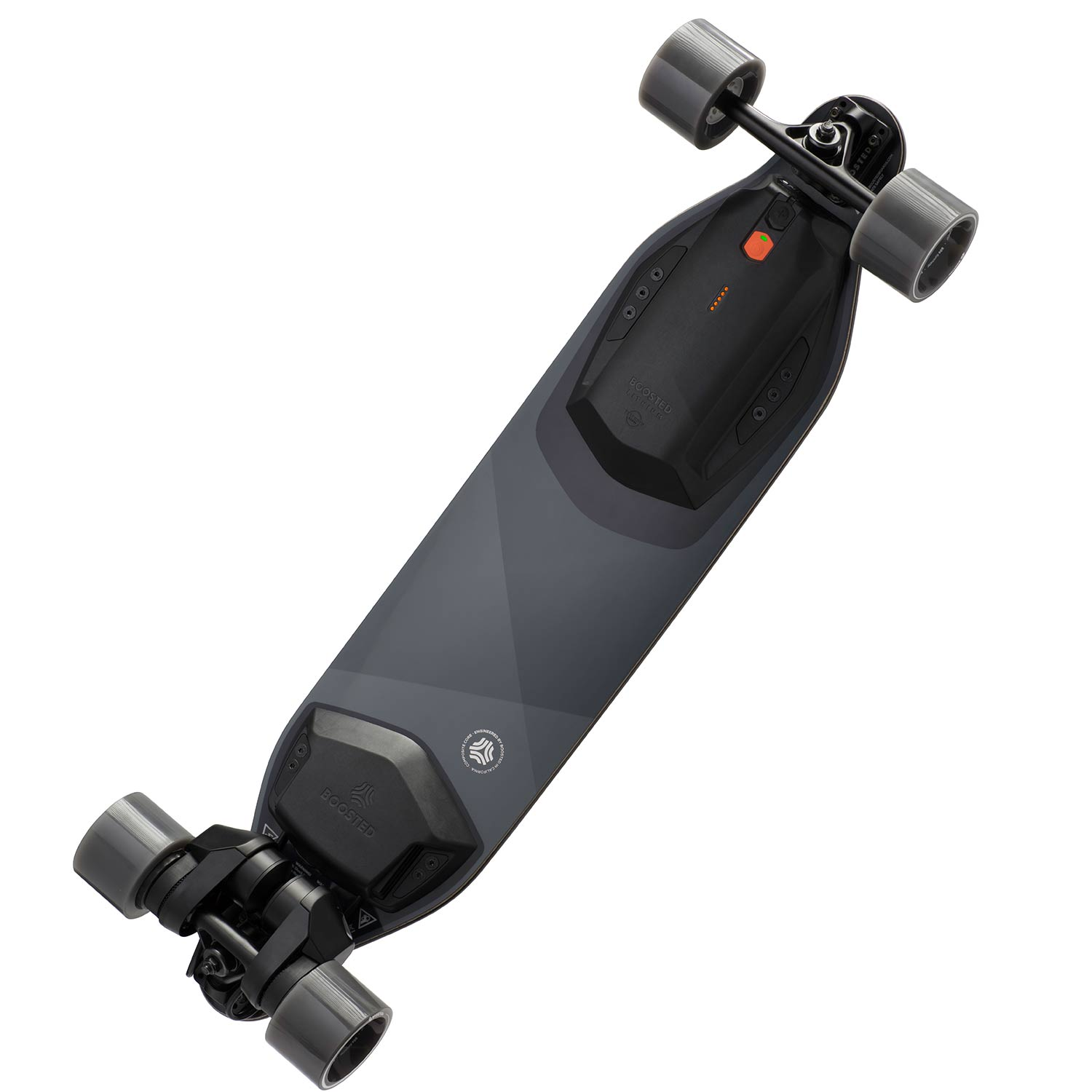 Price
The Stealth comes in at a whopping $1,599. It's a lot of money, but you'll never have to (or want to) buy another electric skateboard after this. A ton of capabilities that make riding this thing a blast. If you want premium performance you'll have to pay a higher price.
Speed
A blazing top speed of 24 mph like a racehorse. Lightning quick acceleration with a super sensitive throttle. You're off in a blast.
But the real secret is in the remote. 5 rides modes that offer different speeds for different levels of riding. And if you're a pro put it into Hyper mode. That's right, the all new speed mode created just for the Boosted Stealth that sends you into a speed junkie frenzy. This will take you all the way up to 24 mph. You'd be surprised at how fast that is on an electric skateboard.
Range
The Boosted Stealth also comes with an extended range battery capable of traveling up to 14 miles. Not an upgrade over the Boosted Plus but 14 miles is still excellent.
Hill Climb
The hill climb rate on the Stealth is rated at 25% I believe it might even be greater, because when I tested it, this thing would fly up any incline. It's certainly not afraid of any hills and doesn't seem to lose any momentum with it's massive 2,100 Watt motor.
Weight
Surprisingly even with the extended range battery and a longboard style board, the Stealth still weighs only 17 lbs. A little bulky to carry but still nothing too heavy.
Size and Deck
The exact same deck and size as the Boosted Plus, the Stealth offers a super flex composite deck for great comfort and handling. A 38 inch long deck, 11 inches wide, with reinforced triaxial fiberglass, and polymer sidewalls.
Other Capabilities and Features
Regenerative Braking

IOS and Android App Support

Wireless Bluetooth Remote

1 Hour 45 Minute Charge Time

5 Ride Modes including the all new Hyper-Mode

85 mm Boosted Stratus Wheels

Polymer Sidewalls for Protection Against Impact

2,100 Watt Motor

Stronger Trunks for Unparalleled Durability

Reinforced Top Sheet Fiberglass

Vibration Dampening Foam
Support
What I love about Boosted is their app they offer for IOS and Android users.
That app lets you get software updates for every board and notifies you when they're released., With software updates your board will have increased capabilities which include increasing top speed, board registration, and improving battery life.
You can also check the app for stats about your board or rides. The app has a built in speedometer to track how fast you've been traveling or how far you've rode. It also lets you know the estimated battery and range you have remaining.
You can even get updates on your phone when to let you know when your board is done charging. Plus, the online community of Boosted lets you share and discover new spots to ride your board. Let the adventure begin!
Where Does Boosted Rank?
Without a doubt, Boosted still ranks at the top for the incredible boards and service. It will take some time before they can be dethroned by another company. I find Inboard to be some solid competition with their M1, but that's the only electric skateboard they offer.
Evolve Skateboards has some super capable electric skateboards, but are just way too expensive.
And Chinese companies are providing some amazing boards for a third of the price but don't have the service and support you'd get from Boosted.
Until then, I see Boosted staying on top. Besides, who know what they have in store for the future. Cheers and happy gliding!