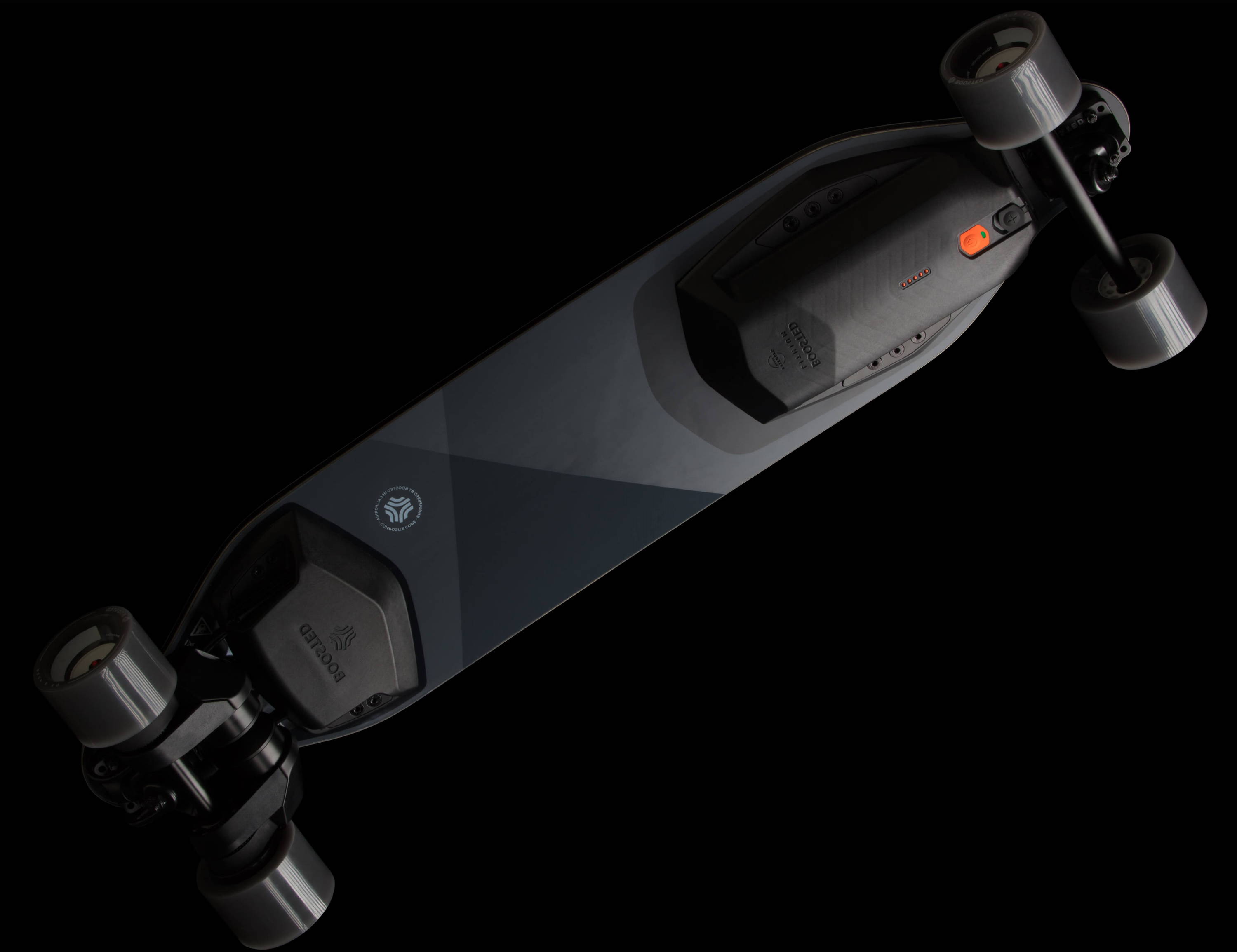 With all the brands out there, you may find it difficult to come to a decision when purchasing an electric skateboard. What is the cream of the crop, and what do we consider to be the best electric skateboard on the market.
While every electric skateboard is good in it's own way, we found that the 2nd Gen Boosted Dual+ was the best electric skateboard of 2018. Boosted has set the foundation and continued to raise the bar. A top speed of 22 mph, 7 mile range, 25 degree incline rate, insane handles, and incredible overall quality, the Boosted 2nd Gen Dual+ is the best electric skateboard on the market!
In the rest of this article, we'll be giving info on the performance of the Boosted 2nd Gen, showing how it stacks up against other boards, and we'll talk about the Boosted brand.
Boosted 2nd Gen Dual+ Performance
In terms of performance, the Boosted 2nd Gen Dual+ is phenomenal. It offers a top speed of 22 mph, and while many will say other boards go faster, I don't recommend pushing a board past 25 mph. It's scary and dangerous, especially with speed wobbles. The board offers 4 total speed modes: beginner mode, eco-mode, sport mode and pro mode. Acceleration is smooth but powerful, and you feel comfortable even when pushing the board at high speeds. Boosted boards also have a keen reflex to take off and go all out with the flick of the switch, another advantage we love over other boards.
Thanks to it's beautiful and unique deck design, the board handles like a magic carpet. Flexible yet stable, you can easily pull tight corners and maneuver around obstacles without batting an eye. It's 38 inch bamboo and fiberglass deck with extra-traction grip tape make riding fun and stylish at the same time. Overall, this is the best feature about the board. It still kills me every time how great it handles.
Many would say that a 7 mile range on this Boosted board is a total buzzkill. How could you name this the best electric skateboard of 2018 when the board can't even travel from Grand Central to Yankee Stadium?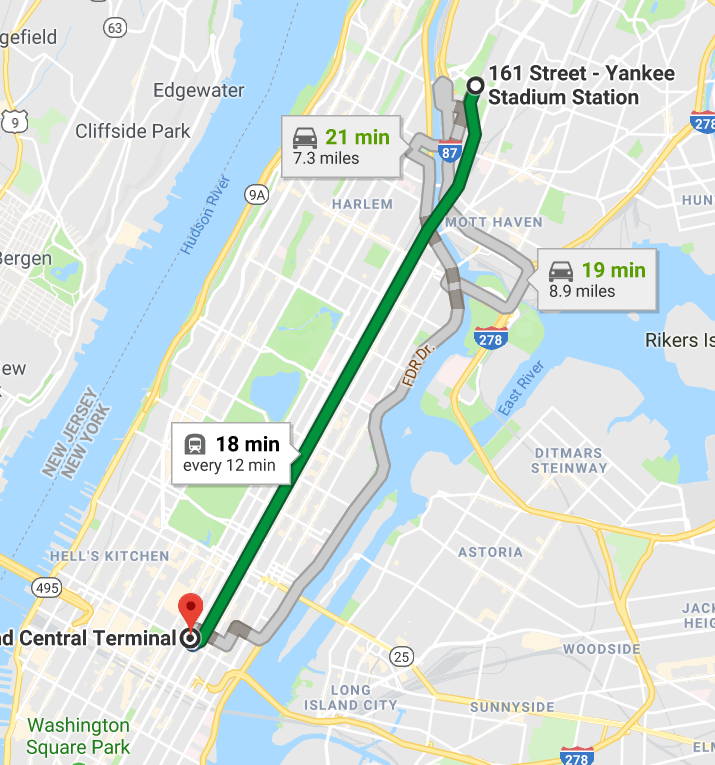 Boosted realized that most people riding electric skateboards will rarely ride for more than 7 miles anyways. Not too mention the 7 mile range can be upgraded to 10 miles simply by purchasing the larger battery pack. Problem solved.
What about hill climbing? The board still works at a 25 degree incline, and moves with a purpose, not like your grandparents stair lift.
Braking on the Boosted 2nd Gen is smooth and regenerative, meaning your battery will charge upon slowing down.
The board weighs 17 lbs which is around average for most boards, and the motor puts out 2000W double the power of other electric skateboards. The Bluetooth wireless remote is possibly the best in the industry. Sturdy, well designed, and easy to switch gears and 4 speed modes.
The board also comes with water resistance meaning you'll have no problem riding in the rain or puddles.
How it competes versus other boards
Boosted is considered the top brand out there, but many people may argue that the price is a killer. The Boosted 2nd Gen Dual+ comes in at a hefty $1,200. But as the old saying goes, you get what you pay for. Not too mention you can purchase a Boosted Mini S for $750.
We have created an infographic from cdhpl.com who wrote a great article on the best electric skateboards of 2018.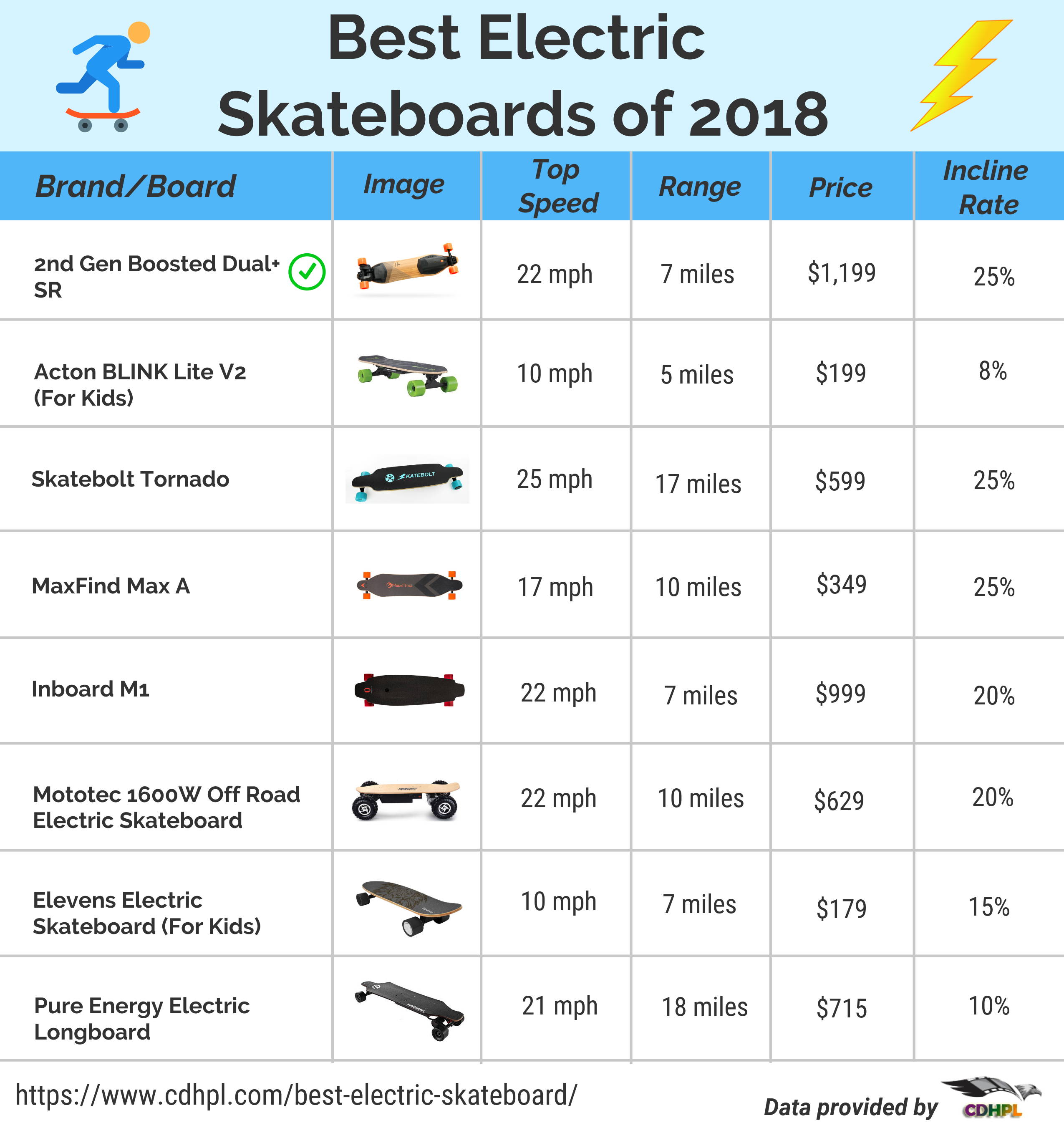 Evolve is another huge brand that offers premium electric skateboards. The Bamboo GTX and the Carbon GT have incredible range, top speed, and they all come with different wheel setups, allowing you to ride on the street or an all terrain landscape. Evolve offers these premium boards at a hefty price, often pushing $2,000, although I encourage everyone to take a look at their website.
The Inboard M1 is another big competitor. Cheaper price, with nearly the same performance measure as the Boosted 2nd Gen Dual+. I have rode both, and the Inboard M1 surely makes a case for itself, but I still like the handles and smooth capabilities of the Boosted board.
Finally, we have Chinese companies such as MaxFind, Meepo, WowGo and Ownboard who have come out with cheaper versions of the Boosted Plus, sometimes half the price. Some reviewers claim these electric skateboards as "the Boosted board killer." We noticed that although these boards are an incredible value for their price, they just don't offer the support system that Boosted offers.
They certainly make quite the case for your hard earned money. They're just as fast, have great range, fast charging times, and often come with extra gadgets and gizmos thrown in the box. Where they lack is the Boosted support system.
The Boosted brand and support
What makes Boosted the best electric skateboard brand out there is not even their electric skateboards. Boosted offers unmatchable support when it comes to their customers.
First, their app. Boosted has an app for riders can download for free on both IOS and Android platforms.
Track your rides - Your board automatically tracks it's own rides and updates it to the GPS on the app. Know your range, battery levels, and get rider settings updated on the fly while you glide.

Software updates - What if you could update your board's software the same way you do with your iPhone? You can! Updating the board increases performance features and fixes bugs as soon as their released.

Notifications -

Enable notifications to let you know when your board is done charging. Plus, you can discover new spots to ride your board and find answers to your questions on the go.
Secondly, the Boosted support system really makes sure your enjoying the experience of your board. Warranty covers 6 months of defects and manufacturing errors. You can also place a request for service and ship your board out for a quick repair. Boosted also offers maintenance information on their website for any problems you may be having. From your board making weird noises to wheels not spinning at the same speeds, Boosted has you covered.
Aside from it all, the Boosted 2nd Gen Dual+ is our best electric skateboard of 2018. If you're willing to spend on the higher side for the absolute best quality, you will certainly not be disappointed with purchasing a Boosted board. Boosted continues to raise the bar for the electric skateboard market. We are very excited to see how they push technology and what other boards they release into the future!
If your not a fan of Boosted or electric skateboards, you can check out our article on electric skateboards vs. electric scooters! And we'll show you all the pros and cons of purchasing an electric scooter.